1,000 COVID cases recorded in Orkney in 2 weeks – OLECG plea for vigilance as services impacted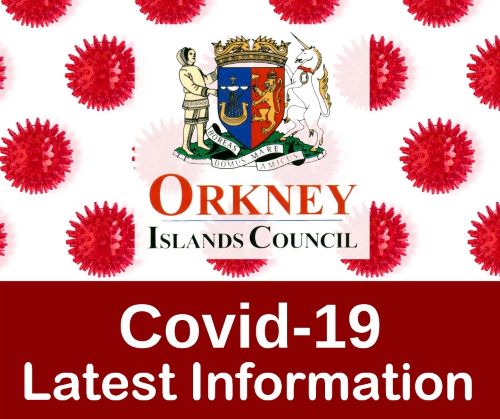 Pressure across Council-run services is continuing as a startling picture of COVID- related community transmission was outlined by NHS Orkney last week.
The Director of Public Health, Dr Louise Wilson, said it took Orkney 21 months for the total number of positive cases to reach 1,000 cases, another 2 months to take it 2,000 cases and just 2 weeks to get to 3,000 cases.
The rise is showing no signs of abating leading to a further plea from the Orkney Local Emergency Coordination Group members for the public to once again increase their efforts to limit the spread.
OLECG vice-chair and Corporate Director Neighbourhood Services and Infrastructure, Hayley Green, said following this morning's meeting of the group: "As the UK and Scottish Governments move forward with their plans for 'living safely with COVID', which includes a lessening and doing away with restrictions depending on whether you are north or south of the border, we, in Orkney, are facing something of a dilemma given that we are behind the curve.
"We are seeing very high rates of transmission, and this is impacting heavily across our services – most notably within the care sector and our schools and nurseries – but really most areas are now being affected given the level of positive cases and the requirement for isolation.
"We have reached the point in schools and nurseries whereby we have exhausted supply staff as a contingency and middle and senior staff, including Head Teachers, who were helping to keep classes open by teaching themselves or taking on janitorial or cleaning duties for example, are now also off due to COVID and other sickness. Not only are children off due to catching the virus, but others are having to stay home due to a lack of staff – this is having a negative knock-on effect on working parents who are having to either work from home if that is possible or take time off when it is not.
"It has also become apparent that we are now witnessing children in schools who have become infected for a second time."
The Council stressed that schools are trying to ensure remote learning can be provided when possible – and there are enough staff to make it happen.
Within adult care services, many are now feeling the impact and as a result two of our older people's day care services on the Mainland will be closed from Wednesday as staff are deployed to assist within residential care homes. Those affected are being informed. There are further staffing challenges in adult social work and Occupational Therapy.
Ms Green continued: "The closure of any service is as a last resort, but we have no choice to ensure we can safely manage to run our residential care facilities. The situation will be monitored closely and as soon as we are in a position to reopen safely then we will let everyone know. Our care staff and the families of residents have done an outstanding job in keeping this virus at bay and outwith our care facilities up until recent times but given the widespread transmission and the reduction in restrictions it has meant it was almost inevitable that this was going to happen at some point."
Staffing challenges are also being felt across the Leisure and Culture service, with some gym and swimming pool sessions and exercise classes being cancelled. The Council-run St Magnus Café, Community Centre and Town Hall has also been affected by closures and reduced opening hours. A plan has been agreed to ensure some level of service continues at the popular cafe during this challenging period and is being trialed this week (28 February) until the end of March, opening from 09.30-14.30 Monday-Friday with an amended menu.
Orkney is tracking about four weeks behind mainland Scotland and recent weekly rates show Orkney counting more positive tests than the rest of Scotland, apart from Shetland, per head of population. Recent Government data also showed that in a recent week, 402 people in Orkney confirmed a positive test result.
Given this, the Council will be maintaining all current related COVID 19 restrictions for the time being, including working from home if you can, and this will be reviewed again during March.
Thankfully, hospital admission rates remain low and Orkney's uptake rate for the vaccination is good, with over 84 per cent of those over 18 having had their 3rd booster jag.
A spokeswoman for NHS Orkney added: "We praise the community for their continued, regular use of lateral flow tests and urge everyone to continue using these. Particularly before meeting up with family, friends, travelling and attending events. Logging lateral flow results is just as important and we ask you all to log both negative and positive results. When a positive lateral flow test is logged you will then receive information on isolation etc.
"We're continuing to ask all NHSO health care staff to continue with lateral flow testing when coming to work and this will be in place for the time being."
Log your results here www.gov.uk/report-covid19-result
We know it's Orkney and we know it's still feeling very cold outside, however when meeting people inside, opening windows and doors helps to blow away any virus particles.
Living safely with Covid around means wearing a face covering in most indoor public places and on public transport. Every face covering worn helps to protect others and helps the NHS. Some exemptions apply.
Find out more ways for Living Safely at gov.scot/coronavirus
Summary:

Pressure across Council-run services is continuing as a startling picture of COVID- related community transmission was outlined by NHS Orkney last week.

Category:

External Link: