New Year, New Buses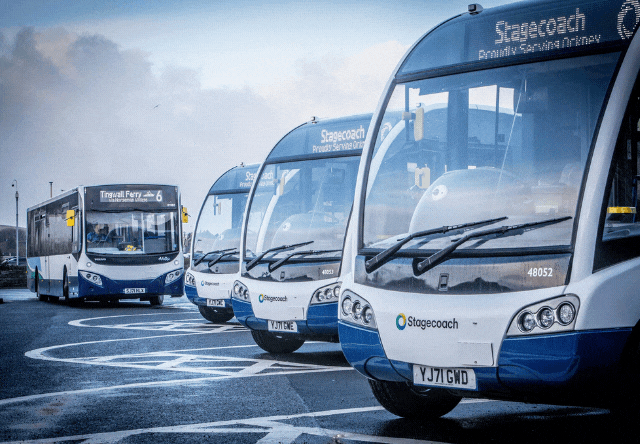 Orkney is welcoming 2022 with the full complement of 34 brand new fully accessible and low carbon emission buses for its public and school bus services.
December saw the delivery of seven of nine new Optare buses - the final two buses arrived in the first week of January.
That's in addition to the 25 larger Volvo buses for school transport and the busier public bus routes which arrived in the county over the last three months of 2021.
The investment in 34 brand new low emission buses by Stagecoach is a result of a £5.8m contract between Orkney Islands Council and Stagecoach covering an 8-year period, from 2021 through to 2029 – an increase of £2m on previous spend by the Council on public and school bus services.
The new fleet operated by Stagecoach meets strict Euro 6 carbon emission standards.
Like all Stagecoach buses across the UK, the new fleet for Orkney feature contactless payments and live bus tracking on board public services that bus users can access by downloading the free Stagecoach mobile app.
Chair of the Council's Development and Infrastructure Committee, Councillor Graham Sinclair said: "It's gratifying to see the new fleet on the road - it's a milestone which reflects very hard work by our transport team to secure modern, accessible and low carbon buses for the benefit of our residents, including school pupils, public bus users and visitors.
"These buses are an environmentally advanced and cost effective solution for Orkney's transport network right now. But we look forward to building further on that in the near future, by exploring the potential of external grant funding to take advantage of Orkney's renewables resources and bring on board green hydrogen and electric powered buses when feasible."
OIC's Transportation Manager, Laura Cromarty, said: "We're delighted to be starting 2022 with a whole new fleet for Stagecoach-operated services. We want to thank Stagecoach and manufacturers Volvo and Optare for delivering these buses to ambitious timescales, in what has been a challenging year for industry due to COVID-19. We hope the Orkney public, pupils and visitors enjoy these lovely new buses as well."
David Beaton, Managing Director at Stagecoach Highland said: "We are delighted to now have the new fleet operating out of our Kirkwall depot. We've already received some fantastic feedback from the public about the new buses and will look forward to welcoming more people back on board in 2022."
The folk in the group picture here are (left to right): Mark Malley, Fleet Engineer and Jay Anderson, Operations Manager (Stagecoach); Councillor Andrew Drever, Vice Chair of OIC's Development and Infrastructure Committee; Leader of Orkney Islands Council James Stockan; OIC Transportation Manager Laura Cromarty.
Summary:

Orkney is welcoming 2022 with the full complement of 34 brand new fully accessible and low carbon emission buses for its public and school bus services.

Category:

External Link: