The Orkney Museum
Orkney Museum has suspended its collections enquiries service in order to focus on the major capital project at Scapa Flow Museum, Lyness.
The redevelopment will draw heavily on our staff resources. We regret that we are therefore unable to offer a collections enquiry and appointment service for individuals or groups at present.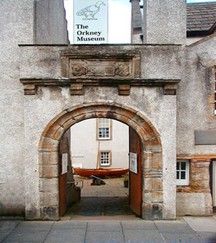 The Orkney Museum tells the story of Orkney, from the Stone Age, to the Picts and Vikings, right through to the present day. There is a large collection of old photos and activities to amuse younger visitors. The Museum's collection is of international importance and it has a changing temporary exhibition programme.
The Orkney Museum used to be a house – Tankerness House. For three centuries this house was the home of the Baikie family of Tankerness, whose estate gave the house its name. It opened as a museum in 1968 and is an A-listed building. The Baikie Library and Drawing Room gives the visitor an idea of how the house looked when it was a family home.
The North and South wings of the house were originally manses for the Cathedral clergy. After the reformation they were bought by Gilbert Foulzie, the first Protestant minister, who in 1574 built the arched gateway that bears his coat of arms.
Address
The Orkney Museum, Tankerness House, Broad Street, Kirkwall, Orkney, KW15 1DH.
Telephone
01856 873535 (extension 2523) or 01856 873191.
Opening Times
Mon-Sat, 10am - 12pm and 2pm - 5pm
Not all galleries are open due to physical distancing measures and there are no toilet facilities available. Numbers allowed in the building are limited, so please be prepared to queue outside if necessary.
FAQs
Is the museum fully open?
At present the only galleries open are the Baikie Library, Drawing Room and temporary exhibition gallery.
What temporary exhibition is showing?
Our planned Between Islands summer exhibition, funded by LEADER 2014-2020, has been reconfigured as a virtual exhibition, which we hope will be available towards the end of 2020. This is a joint project with partners in Shetland and the Western Isles.
Instead, we will be showing an exhibition of paintings, drawings and prints illustrating the Between Islands themes of arts, crafts and literature at Orkney Museum, will act as 'tasters' for the virtual exhibition.
Why can't I look round the rest of the museum?
The museum is housed in an historic building and the other galleries and corridors are too small to allow for physical distancing.
Are there restrictions on the number of visitors?
Due to the small corridors and galleries, numbers are limited to 8 visitors in the building at any one time.
Do I have to book my visit?
We are not asking visitors to book, but you should be prepared to queue outside in the museum courtyard if the exhibition is full. If there are more than 8 people waiting, we suggest coming back when the museum is less busy.
How long can I stay?
Visitors should stay for a maximum of 30 minutes.
How can I be sure it is safe to visit?
Our opening hours have been reduced to allow time for regular cleaning. We have introduced physical distancing measures to prevent overcrowding and our staff will be monitoring this closely. We ask you to use the hand sanitiser provided on entering and leaving the building.
Do I need to wear a face covering?
Most recent Scottish Government guidance requires face coverings to be worn in museums and places of worship. Please ensure you come prepared with a face covering which will need to be worn for the duration of your visit.
Will I be asked for my contact details?
Orkney Islands Council is supporting the Scottish Government Test and Protect system, so you should be prepared to give your name and contact phone number when entering the museum. Record slips are available on entry; these are stored in accordance with General Data Protection Regulations and will be destroyed after 21 days.
Will the toilets be open?
For safety reasons none of our toilets will be open. The nearest public toilets are in St Magnus Lane.
How do I get in?
Entry is through the arched gate in Broad Street and in through the main door. Exit is via a side door into the courtyard. As the entrance-way is narrow, please be considerate of others. Unless you are a wheelchair user, please do not enter via Tankerness House Gardens.
Will there be disabled access?
There is an accessible door from Tankerness House Gardens and staff will be available to assist. The open galleries are all upstairs, but a stair lift is available.
Will the museum shop be open?
The museum shop is now open, selling a range of books and gifts, including local crafts. Please ring the bell on the table at the exit and a member of staff will take you through. If you don't want to see the exhibition and just want to browse the shop, please speak to the staff member on duty as you enter the building and they will let you in.
Where can I find out about the galleries that are closed?
Some information is available on our museums blog which can be accessed from the Related Sites section of this page.
Can I book a research visit?
At present the museum and museum stores remain closed to visiting researchers.
Price
Facility is free of charge.
Disabled Access
Disabled access is available from Tankerness House Gardens. A stair lift is available for access to the temporary exhibition which is on the first floor.
Can I make a donation to museum funds?
If you wish to make a donation, please use the 'Donate Now' button below.