29 September 2020
Thousands of unpaid carers in Orkney urged to seek available support
Orkney's unpaid carers - described as the county's "unsung heroes" – are being encouraged to access emotional, practical and financial support services available to them.
The multi-agency Carers' Strategy Group (CSG) in Orkney estimate there could be as many as 4,000 unpaid carers in the county with many of them unaware of the support that is accessible to them on their doorstep.
Never more so during these challenging times has it been so important for unpaid carers to know they are valued and that help is available.
CSG chair, Shaun Hourston-Wells, who is also a project manager with Orkney Health and Care, explained that an unpaid carer is typically someone looking after a loved one or friend who has a long-term health condition.
"Many of these people are known to Orkney Health and Care, but there are a lot of folk who are not. Often, someone looking after their partner, parents, child or friend doesn't realise that they are a carer – caring is just something that they do as part of their normal routine. They will also not know that there are services available to support them.
"The Carers Act, passed by the Scottish Government in 2018, enables unpaid carers to seek help and support from the Local Authority and other support organisations. Crossroads Care Orkney is an organisation that provides information, support and practical help to carers and can advise what support packages might be available.
"One of our greatest challenges is helping people to realise that they are a carer and, therefore, entitled to support. Now, more than ever, folk looking after their loved ones need help and support, and we want them to get in touch and find out what support we can offer them."
"At the last census there were 1978 carers identified, but we believe that the actual number of people who are unpaid carers - and would qualify for support – is now probably nearer 4,000, so there are a lot of folk that we would like to help who, just now, are not getting the help that they are entitled to," Shaun added.
Crossroads Care Orkney have around 250 unpaid carers registered with them.
Manager of Crossroads and a member of the CSG, Olivia Tait, stressed that they are very much "open for business" and continue to offer advice, information, emotional and practical support.
"Unpaid carers are the unsung heroes; an invisible workforce who are providing an essential service. They provide support to family members, friends, neighbours – those they care for may be affected by disability, physical or mental ill-health, frailty or substance misuse. There are also young carers who look after a sibling, parent or grandparent.
"We provide respite care to unpaid carers but over lockdown we suspended this to keep everyone safe putting a great strain on some unpaid carers. We are now back to providing to existing carers and new ones.
"During lockdown unpaid carers faced new challenges with no day care services available to the elderly and people with physical and learning disabilities. This led to social isolation which impacts on the carer too, who then tries to provide social time with them as well as coping with personal and domestic care. This was also the case for the parents of schoolchildren with additional needs in lockdown but thankfully that situation is resolved now. There might be people who have started caring roles in the lockdown time and aren't aware that there are services back on the go that can help them".
"Some unpaid carers may feel they do not require any support in their role and that is fine, but we do wish to alert those who may be able to benefit."
Crossroads Care Orkney manage the Orkney Carers Centre and provide a wealth of services:
Information, advice and advocacy.
Emotional support – whether via the Carers' Support Group or one to one.
Practical help – free of charge respite care to unpaid carers, personal, social and domestic care to elderly people with or without a carer, a service to children and young people with an additional need.
Training for carers.
Loan service of equipment such as wheelchairs and rollators, and a library of books, DVDs and dementia resources.
Financial streams – Time to Live funding is available through Crossroads and the Citizens Advice Bureau can assist with applying for the Carers' Allowance.
For more information please contact Crossroads Care Orkney on 01856 870500 or via email carers@crossroadsorkney.co.uk
Gill's story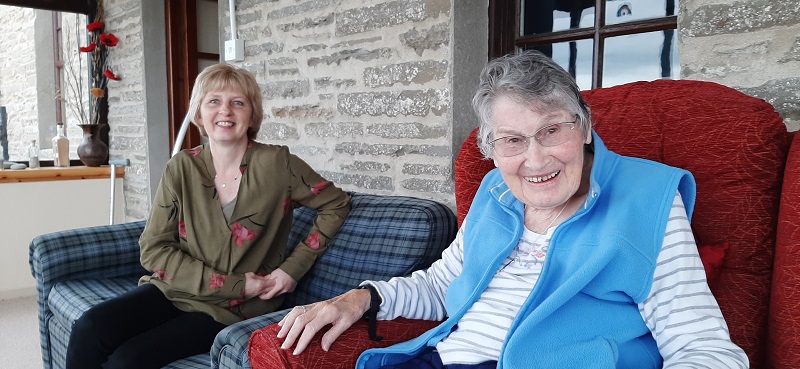 Pictured are Margaret and her Crossroads carer, Morag.
Gill Fraser, who cares for her elderly mother, Margaret, at their home in the West Mainland, described the carers' support network in Orkney as nothing short of a "gift".
"I cannot sing the praises of them highly enough," she said. "I would pay handsomely for the service we receive, so for it to be free is just unbelievable."
Gill, who moved to Orkney almost 40 years ago with husband Andy, began caring for her 90-year-old mother full-time just days before the country went into full lockdown in March this year.
She explained that Margaret's health began deteriorating in recent times and she had intimated that she would be happier living with a family member.
The decision was made that she would move from her Yorkshire home to live with Gill and Andy – and together with the support of their grown-up children, they would all help in their mother and grandmother's care.
However, the full lockdown scuppered those plans.
"Ahead of us bringing mum up to Orkney we got in touch with Crossroads – we had heard of them but weren't really aware of exactly what they did. They were a huge source of information – there was nothing they weren't happy or able to find out for us.
"We had planned for our children to be able to provide some support to myself and Andy but, of course, that could not happen during lockdown. As a carer you were simply locked down with your beloved family."
With Parkinson's, Dementia and other conditions, Gill's mother can find life challenging and frustrating, being unable to carry out some of her own personal tasks, which can have a knock-on effect for those doing the caring.
Crossroads have been able to help, not only through advice and information, but by providing respite care each week – allowing Andy and Gill to have a short break out of the house.
Gill explained: "Mum's carer is called Morag and she comes every Monday for two hours. When mum sees her coming her face lights up like a Christmas tree! The same carer comes as they build up a relationship and trust which is so important for the person being cared for. Knowing we can leave mum with someone she really likes and feels comfortable with is such a blessing.
"I would certainly encourage others who find themselves in the position of caring for a loved one to get in touch with Crossroads – the support, advice and help emotionally and practically has been a tremendous benefit to us."