St Magnus Cathedral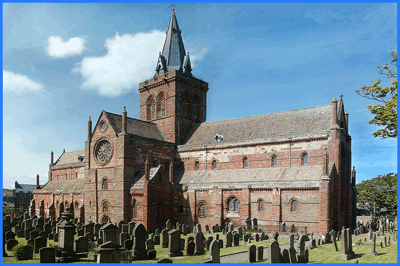 St Magnus Cathedral, built from red and yellow sandstone, is of international significance. This 'fine minster' took about 300 years to build, the foundations starting in 1137. It was dedicated to Magnus Erlendsson, Earl of Orkney. He shared the earldom with his cousin, Haakon Paulsson, but jealousy and greed culminated in Magnus being martyred on the island of Egilsay.
The building is a fine example of a Romano-Gothic Cathedral. In 2007, the Cathedral was highly commended for the 'Best Historic Attraction – Cathedral/Abbey' award from the Icons of Scotland magazine.
Address
St Magnus Cathedral, Broad Street, Kirkwall, Orkney, KW15 1NX.
Telephone
01856874894.
Opening Times
Summer opening - 1 April - 30 September
Monday - Saturday, from 09:00 - 18:00 and Sunday 13:00 - 18:00.
Winter opening - 1 October – 31 March
Monday - Saturday, from 09:00 - 13:00 and 14:00 - 17:00 (Cathedral is closed for lunch - 13:00 - 14:00).
Fixed events and access information for 2018 are available in PDF format from the 'Related Downloads' section of the page.
Price
Facility is free of charge.
Further Information
Upper levels tours
Tours of the upper levels of the Cathedral are available all year round. There is a charge for the tours and they must be booked with the Custodian by calling 01856874894.
Vouchers are now available for the upper level tours. They cost £8.60 each and the tour can be booked at any time throughout the year. They make an excellent and unusual gift! The vouchers can be purchased from the Custodians at the Cathedral. Please see a sample of the voucher below.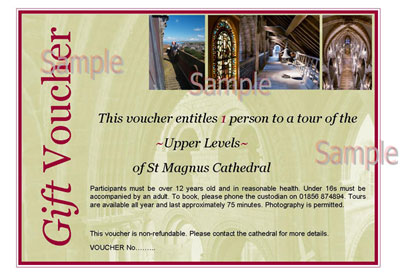 A link to the St Magnus Cathedral Twitter page is available from the 'Related Sites section' of the page.