Stromness - Point of Ness Campsite
Orkney Islands Council Hostels and Campsites COVID-19 Information
March 2022 Update
Our Hoy and Rackwick Hostels are currently open (subject to current Scottish Government restrictions) and are operating at reduced capacity with exclusive room bookings only. Birsay Hostel is open to large groups only and booking enquiries can be made via email or telephone.
The Birsay Campsite will reopen for the season on 1 April 2022 and the Point of Ness Campsite will reopen on 23 May 2022 following an upgrade to facilities.
All guests staying at our sites must understand our terms and conditions and follow the COVID-19 guidelines and restrictions put in place for the safety of staff and guests.
Further information is available in 'Campsites – Frequently Asked Questions' from the 'Related Downloads' section of this page.
Thank you for your co-operation and support.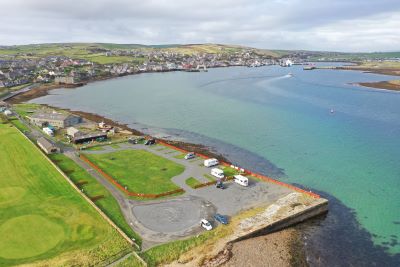 The 3-star Point of Ness campsite is situated on the shoreline overlooking Stromness, one mile west of the pier head and ferry. The site provides dramatic views to the hills of Hoy and is located in a quiet location with a shoreline walk from the site.
Reviews
"Sadly we only stayed on Orkney for one night, but this site was perfect for us. It was clean, friendly and completely hassle free. Ideally situated for our early morning ferry the next day, and a great base of operations for our short time on the island. Would return and would recommend." - 5 May 2021.
Address
Point of Ness Campsite, Stromness, Orkney, KW16 3DW.
Opening Times
Campsite is open from the beginning of April to September.
Check-in from: 14:00.
Departure time: 10:00.
Warden on duty:
10:00 - 12:00 (Cleaning of amenity block).
14:30 - 15:30.
20:00 - 21:30.
Facilities
The site is suitable for touring caravans, motorhomes and tents, being on a level, firm grassy site. There are 42 pitches and 28 electric hook-up pitches. There are toilet and shower facilities on site, with washing amenities.
Prices
Caravan / Motorhome / Large Tents with electric - £25.20 per night.
Caravan / Motorhome / Large Tents - £20.30 per night.
Medium Tents - £16.40 per night.
Small Tents - £10.70 per night.
Awnings - £6.80 per night.
Adults - £9.00 per person.
Children (Under 18) - £5.30 per child.
Availability and Bookings
We would encourage members of the public to use the online booking system, as telephone and email bookings will incur an additional admin charge.
By using the CampStead Ltd website 'Book Now' button you confirm that you have read and accepted the terms and conditions available in PDF format from the 'Related Downloads' section of this page.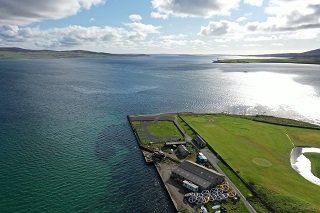 Further Information
If you require any further information or need assistance making a booking, please do not hesitate to contact Stromness Customer Services using the details below.
Telephone: 01856873535.
Email: Stromness Customer Services.
Stromness Customer Services opening hours are available from the 'Related Links' section of this page.
Terms and Conditions
Full terms and conditions are available in PDF format from the 'Related Downloads' section of this page.