Kirbuster Museum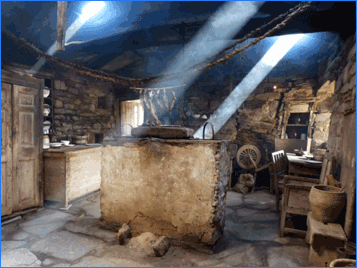 Kirbuster Museum was opened to the public in 1986 and is the last un-restored example of a traditional 'firehoose' in Northern Europe. The house has a central hearth, complete with peat fire, and a stone neuk bed reminiscent of the Neolithic interiors that can be seen at sites such as Skara Brae, Orkney. Kirbuster was occupied up until the 1960s and was once the home of the Spence and Hay families.
The site also has an Edwardian parlour and Victorian Gardens. The implement shed contains a collection of farming memorabilia and visitors can enjoy a game of putting on the green and explore the Trowie Trail in the back garden.
An excellent place to visit if you are researching your Orkney ancestry, to get a flavour of what life was like in Orkney in bygone years.
Contact Details
Address
Kirbuster Museum, Birsay, Orkney, KW17 2LR.
Telephone
01856771268.
Opening Times
1 March 2018 – 31 October 2018
Monday – Saturday, from 10:30 to 13:00 and 14:00 to 17:00.
Sunday, from 12:00 to 17:00.
1 November 2018 – 28 February 2019
Closed.
Admission
Admission is free of charge.
No dogs, except for assistance dogs, are allowed.
Further Information
To keep up to date with the museums in Orkney, please visit our Facebook and Twitter pages available from the 'Related Sites' section of this page.