Chief Officer's Blog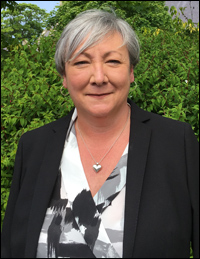 Sally Shaw is the new Chief Officer for Orkney Health and Care, the Integration Joint Board for the islands. Sally will be writing a regular blog for the website.
May 2019
Hello all,
Time really has flown since my last blog, so my apologies for the delay in uploading one, but much has been going on.
Since coming into post, eight months ago, Orkney Health and Care has been involved in some exciting projects. The Integration Joint Board has supported us in applying for resources from Scottish Government to work on two particular projects.
We have applied and gone through a process with the Scottish Government's 'Pathfinder' project. This is a project to look at how technology can support health and social care. We have been identified as a named partner on this project and will be working closely with East Ayrshire on a 'Think Tech First' initiative.
We have also secured resources to work with the iHub (part of Healthcare Improvement Scotland) and the National Development Team for Inclusion (NDTi) on developing a Community Led Support approach when thinking about designing and delivering health and social care across Orkney.
Both are significant initiatives and will see change in how we do things here in Orkney. Here's some more information about them.
Community Led Support
Community Led Support (CLS) is based on a set of principles for how health and social care support should be delivered in ways that are determined by people directly delivering the services, along with local partners and members of the community we are serving.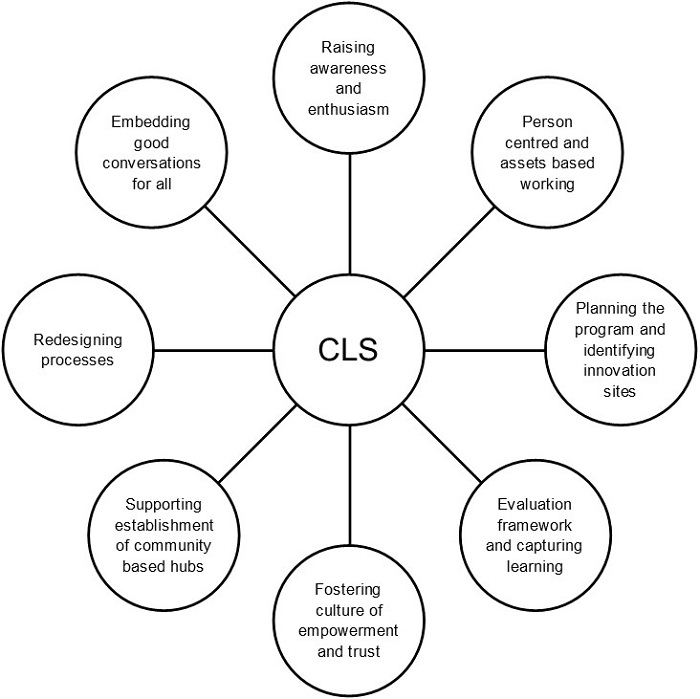 The principles of CLS are:
Co-production brings people and organisations together around a shared vision.
There has to be a culture based on trust and empowerment.
There is a focus on communities and each will be different.
People are treated as equals, their strengths and gifts built on.
Bureaucracy is the absolute minimum it has to be.
People get good advice and information that helps avoid crises.
The system is responsive, proportionate and delivers good outcomes.
Readiness sessions were held in Orkney between 1 and 3 April 2019. Brian Frisby and Elaine Torrance, from the National Development Team for Inclusion, met with various professionals at the Council, Health Board, Third Sector and spoke with carers on the phone.
There are Community Led Support Engagement Events scheduled for the 27 and 28 May, all members of the public are encouraged to attend any of the taster sessions:
27 May: 09:30-11:00 – John Rae Room, Warehouse Buildings, Stromness.
27 May: 12:00-13:30 – Milestone Kirk, Dounby.
27 May: 18:00-19:30 – Community School, Sanday.
28 May: 10:00-11:30 – Room 2, Community Centre, Kirkwall.
28 May: 12:00-13:30 – Room 2, Community Centre, Kirkwall.
28 May: 15:30-17:00 – Community Centre, Deerness.
28 May: 18:00-19:30 - Cromarty Hall, St Margaret's Hope.
This really is an opportunity for people to to the future of community health and social care services.
Tech enabled care
Orkney Health and Care's Strategic Plan is looking to adopt fully the Scottish digital health and care strategy. This strategy looks to maximise the use of digital health and care solutions in order to reshape and improve services, support person centred care and ultimately to improve outcomes.
This approach focuses on:
Prevention and early intervention.
Supported self-management.
Day surgery as the norm.
Discharge as soon as the individual is fit to do so.
Orkney has been selected as a Named Partner to East Ayrshire, as lead pathfinder.
And finally!
Many of our colleagues that are based in the hospital are getting ready to move to the New Healthcare facility which, as you can imagine, is an enormous task! I think all of our colleagues are looking forward to the move and getting used to the new systems which will benefit the people of Orkney.
This year we will be having a stand at each of the shows so that we can raise awareness of all the services which are within Orkney Health and Care and to promote engagement with members of the public.
As you will all hopefully know the refreshed Strategic Plan for Orkney Health and Care is now out for consultation. We have endeavoured to make sure the plan an easy and informative read. Please follow this link to read the draft plan.
September 2018
My first week in Orkney has been fabulous. I have been lucky to have the opportunity to not get fully caught up with meetings and emails, but to spend some time travelling around the Mainland visiting services and meeting so many talented, passionate and dedicated staff. So can I thank all of you who have taken time out of your busy day to spend time showing me around – please also thank those people who use our services that have also taken the time to welcome me and allowed me to intrude on their day.
I have worked in Health and Social Care for 32 years. Before taking up this post I was the Interim Chief Officer for Aberdeen City. I have enjoyed many roles in Local Authorities, Health Boards and within the Third Sector. I am dual qualified, having undertaken registered Nurse training in Learning Disabilities and later on qualifying as a Social Worker. I have experience of living and working on the Islands. I lived on Sanday for a time before moving up to take a post in Shetland. My last role in Shetland was that of Interim Director of Community Care. In 2013 I took on the role of Head of Strategic Inspection with the Care Inspectorate, which was a national role which gave me a great opportunity to see how health and social care integration was developing across Scotland. My husband and I have always wanted to return to Orkney, so having this opportunity has been fantastic for me and my family.
As well as continuing to familiarise myself with all the staff and services in Orkney Health and Care, some of my priorities will be working on the Strategic Commissioning Plan 2019/2022, which I will encourage all staff and members of the public to look at and give feedback during the consultation period, which will be in the new year.
The most important thing to me is that we all ensure 'we do the right thing'. I want to continue to build a collaborative and respectful culture throughout our services, one that ensures that individuals requiring our services are experiencing the very best outcomes. This at time will mean us challenging each other, but doing this in a constructive manner that helps us to all enjoy working in what needs to be a 'learning environment'.
I am really looking forward to working with you all !
All entries below were by former Chief Officer Caroline Sinclair.
April 2018
This will be my last blog, so I would like to take this opportunity to thank all the OHAC staff for their hard work and their dedication to providing excellent care and support to the community. I have very much enjoyed my time here and wish all of you all the best for the future.
Since the last blog, we've been working to implement the learning from the staff survey. In February 2018 we circulated the first OHAC newsletter which aims to improve communication and celebrate success by providing good news stories and information to our staff. The next issue will, hopefully, contain both OIC and NHSO service information. I also held my first "Meet the Chief Officer" session on 31 January where staff where able to book appointments to chat to me about any issues or questions they had. The next one is scheduled for 25 April and will be an opportunity to meet with the Heads of Service. Scott Hunter, Head of Children and Families, Criminal Justice and Chief Social Work Officer, and John Trainor, Head of Health and Community Care, both of whom have been busy trying to visit all of the OIC services as well. If you would like to see the details of the action plan that we developed following the survey, which shows a more full description of what is being planned, available from the 'Related Downloads' section of this page .
We have just completed the IJB's Strategic Commissioning Plan 2018/2019 refresh which will be available on the OHAC webpages shortly, from the 'Related Links' section of this page. We are already starting work on the Strategic Commissioning Plan 2019/2022 which will be going out for public consultation at the end of this year. The years ahead are definitely going to bring some changes in the ways that we currently work and deliver services because we know we have a significant financial challenge. Your input into the development of services for the future will be very important so please put your thoughts forward and get involved in the consultation processes.
Work is also progressing well on the new care facility for Stromness – it is great to see it coming to life on the site. This will be followed shortly by the beginning of the build process for the much needed new Kirkwall facility.
Once again – to all of you, thank you for all your hard work and goodbye.
If anyone has any questions or queries please feel free to email: OHACfeedback@orkney.gov.uk or phone 01856873535 extension 2601.
January 2018
Hello all – this is the first message from me in 2018 and the first thing I would like to say is a big thank you and well done to everyone who kept services running as smoothly as possible despite the heavy snow recently. The impact on the people who use our services really was kept to a minimum despite the challenging conditions.
January has also seen us hold a consultation, working with colleagues in other services on the developments afoot in the Soulisquoy area. We had a really well attended drop in event where people gave their views about, amongst other things, the new Kirkwall Care Home build. It was really lovely to see the enthusiasm from all for the great new building.
You may also have heard that I am moving on to a new job. I have really loved my time living and working in Orkney and will take this great experience with me to my next role.  Thanks to everyone for being part of this experience.
July 2017
The IJB has now completed its first year of formal operation and produced and published a performance report for the year, which was generally very good. The report can be found on the OHAC website.
A refresh of the Strategic Commissioning Plan has been produced to set the direction of the work in 2017 – 2018. Services are working towards delivery of the actions and targets in the plan. The actions in the plan cover all services areas in the IJB's remit and include actions to pick up the feedback from the locality level visits that were undertaken during 2016 / 2017. You can find the new plan on the OHAC website.
We have welcomed new Integration Joint Board – Board Members. Following the local government elections, and some other local changes, we have had some changes in Board membership. Our new Board members have been working on a programme of induction for them which will continue over the coming year.
I'm very pleased to announce that the Health Visiting team have been commended by UNICEF for "the very high standard of care" of mums.
As part of the review UNICEF interviewed 16 mothers and all 7 staff from the tam. The group found the team met or exceed all of their good practice requirements and re-awarded NHS Orkney with UNICEF "Baby Friendly" status.
The award is valid until 2019 and the Baby Friendly Initiative is a global programme from the World Health Organisation and UNICEF. It was established in 1992 to encourage maternity hospitals to implement the 10 steps to successful breastfeeding and to practice in accordance with the international code of marketing of breast milk substitutes. I want to take this opportunity to thank the whole team for all their hard work.
The Integration Joint Board has been continuing to develop its approach to Locality Engagement. We are working up a plan to share information and get ideas about health and social care services from local areas in a way that will allow residents, of both the Isles and Mainland, the opportunity to pass on their thoughts and ideas to OHAC staff so they can discuss what they feel is the important and put forward thoughts about how we can help to shape services. We will be getting in touch with your parish/island through community councils and GP practices over the next 18 months so please do get in touch when we are in your area.
13 May 2016
It's been a very busy few months. Since my last blog we have consulted on, and approved a Strategic Commissioning Plan for the Integrated Joint Board (IJB) and "gone live" as a fully functioning new public body. We had a really good joint meeting of the Board of NHS Orkney and the Council's Elected Members, along with the IJB members and while there continues to be some understandable concerns about this new arrangement there was also a really positive feel in the room and a great commitment to continue partnership working.
I have been out and about a bit, although not as much as I would like. Thanks to Orkney Arthritis Care for their kind invitation to attend one of their meetings, it was very enjoyable. I also went to a public meeting in Dounby, where it was great to see people's interest in care services.
I was also delighted to arrange the design team for the new Stromness Care Home, to replace St Peter's House, to visit the new site. This is the start of the plans beginning to come to life.
You might also like to know over the summer period the care Inspectorate and Health Improvement Scotland will be looking at how well we provide our services for older people. This is a great opportunity to showcase some of the really good work we do, and to learn develop new ideas about how we can keep improving.
You can read our completed Strategic Commissioning Plan from the link in the 'Related Links' section of this page.
21 January 2016
It's a week since my debut …
Until last Thursday I'd managed to get by without using Facebook, unlike many of my friends and colleagues. So you can imagine my feelings as I prepared not just to take a tentative first step into the world of social media, but for a full blown Facebook Chat to which folk across Orkney were invited to join in.
With Facebook-savvy colleagues from the Council and NHS Orkney on hand to keep me right, we went live at 6pm for the first online chat of its kind to be hosted on the OIC Updates Facebook page.
This was a chance for people to discuss community health and social care services, their experiences and what they'd like to see in future. We're right in the middle of a consultation on the Strategic Commissioning Plan for the Integration Joint Board (which will retain the name Orkney Health and Care). The plan is currently in draft form and so feedback from the public and from staff is important before a final version is produced.
Right from the start folk joined in. Some asked questions. Others shared their opinions with us. We were asked what differences would there be as a result of setting up the Integration Joint Board. And there were questions about specific services.
The hour long discussion flew by. I tried to provide quick and concise answers, as there was a steady flow of responses from the folk who joined the discussion. I was really pleased with the way it went. It showed clearly just how much people care about the services we provide and the importance they attach to them.
The feedback since has been encouraging as well. Many people have said to me that they found the discussion interesting as it unfolded on Facebook – and that they'd seriously think about joining in the next time we chat online. You can still catch up on what was said. Go to the OIC Updates Facebook Page, and look for "Events" under the "More" tab just under the banner picture at the top of the page. Then look for "Live chat on future plans for community health and social care services".
As part of the consultation we're holding drop-in events as well. The first was in Dounby this week, with more to follow in Stromness, St Margaret's Hope and Kirkwall. You can find full details here. If you haven't already, I'd encourage you to visit the page and fill in our online survey.
23 December 2015
Much has happened since I was in touch last. In particular I've been trying to get out and about to meet the teams who deliver health and care services in Orkney, with more catch ups to come in the New Year. I'm looking forward to talking with the teams I haven't met so far.
Getting together with staff is important as we move towards the time in 2016 when the new Integration Joint Board starts the task of planning and overseeing the community health and social care services across the county.
Staff from the Council and NHS Orkney have, of course, been working together for more than five years under the banner of Orkney Health and Care. You'll be aware that we are keeping the same name for the Integration Joint Board. The job for all of us is to build on all the good work already achieved in delivering integrated services and ensuring that these best meet the needs of the people we support and care for.
I've been impressed by the enthusiasm and feedback as I've discussed thoughts and ideas for the future with the teams I've met. There's a willingness to try new approaches and, where needed, work differently, if it means we can provide better "joined-up" services. And, of course, there's frustration when this doesn't happen as fast as folk would like. It's good to hear about all of this at first hand – and to talk about what might be needed to move things on.
The festive season is a time to look forward to for many of us, but it's also a time to remember and keep a friendly eye out for those who may be alone at Christmas, or find this time of the year difficult.
A year ago Orkney Health and Care and ChooseLife Scotland joined together in producing two booklets to let people who have been bereaved or affected by suicide - or those who may be having thoughts of taking their own life - know that they don't need to cope alone. The booklets are available from the ChooseLife page in the 'Related Links' section of this page .
14 October 2015
Welcome to the first blog from me as the Chief Officer of Orkney's Integration Joint Board.
Integration isn't new to Orkney. We've been working together through Orkney Health and Care since 2010 – and we're keeping the same name for the Integration Joint Board. This gives us a good head start. We already have health and social care service that are jointly managed, and staff from NHS Orkney and Orkney Islands Council regularly working side by side, supporting and caring for people who use our services.
Setting up an Integration Joint Board gives us a great opportunity to move this even further forward. The Board will have the job of overseeing health and social care services and ensuring that these are "joined-up" in ways that meet the needs of our local community.
We do however have significant challenges ahead, with rising demand for services, at a time of national financial pressures. Integration is the right way to work in the future, and it will help us to meet these challenges, but it's not a magic wand and we will have to think about what we do and how we do it.
There is more we can do though, and the new Integration Joint Board will be looking to involve a wide range of people in planning services including communities, people who use our services, carers and front line staff from all sectors.
The people I have spoken to so far have a real energy and enthusiasm for closer working, for involving communities and for what we can achieve together.
Having the right tools to do the job is a big help in working effectively. There have been some major developments recently, with work underway on the new road to what will be the new hospital, and agreement to build a new residential care home for older people in Kirkwall, as well as one in Stromness. Buildings are by no means the be all and end all for our services but having the right spaces to work in, and for older people to live in, certainly helps.