Case Studies
Culture Fund
Storytelling Festival 2020
"The Covid-19 pandemic struck the UK in late 2019 and increased to the extent that the country was put into lockdown by late March 2020. The 2020 Orkney Storytelling Festival had already booked the storytellers Anne Hunter and Mio Shudo as our guests and hired venues. It was agreed that we would wait to see how things would develop with Covid, but by the late summer it looked like things would not open up soon and that if we were to have any sort of festival in 2020 then it would have to be an online production. Anne Hunter and Mio Shudo were very understanding and agreed to be our guests for the 2021 festival."
"It was decided that the 2020 online festival should be kept simple but that there was room for a mixture of professionally made and home made filmed events. The storytellers in the committee, Erin Farley, Fran Flett Hollinrake, Aine King, Marita Luck, Nela Scholma-Mason and Tom Muir, offered to record stories on various mediums, on camera, mobile phone and laptop. Festival stalwart Scott Gardiner provided songs, while music was supplied by Antonay Hodgson and Jennifer Wrigley. These recordings formed the opening and closing events, which also featured one story each from Anne Hunter and Mio Shudo, as a taste of the 2021 festival. These films were sent to local film maker and technical expert, Sean Lewis, to be put together as events. It was also decided to hire local professional film maker, Mark Jenkins, to create three films for the festival. His beautifully made films made him an obvious choice for something a bit more artistic. His finished product was of an extremely high quality, both technically and visually. What I can say is that our audience was way beyond anything that we could expect from an Orkney based live event."
"The feedback has been extremely positive with some people expressing their hope of coming to the festival another year,or visiting Orkney after seeing the films that showcased it so well. This festival has opened us up to a much wider audience. Our aim now is to build on that success and to continue promoting stories, and Orkney, to the wider world. The festival is currently still available to watch online." 
---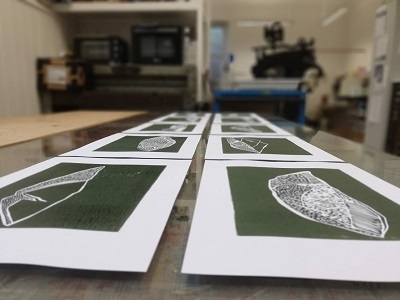 Visual Artist and Craft Maker Awards
2019-2020 Laura Drever
"Without the award I would not have considered seeking additional learning opportunities. With the yearly membership being paid by myself it is unlikely that I would have paid the extra for tuition/courses. Having a good supply of materials ensured that I didn't become too precious about experimenting and using 'too much paper' or fear of a plate going wrong and not having another to use. I also believe that being answerable to the grant has given me motivation to get back to Soulisquoy after the Covid lockdown. Being committed, enthusiastic and having a belief in how this project was going to help my artistic development ensured that I found a way to make it work."
2019-2020  Marion Miller
"I really couldn't have got to where I have without the funding that enabled me to travel to spend a week between 2 great enamelling tutors in Edinburgh. I feel I have now developed my own style and have a range of designs which are unique to me."
Learn more about Marion's journey, in her own words - here.
Kirstie Bruce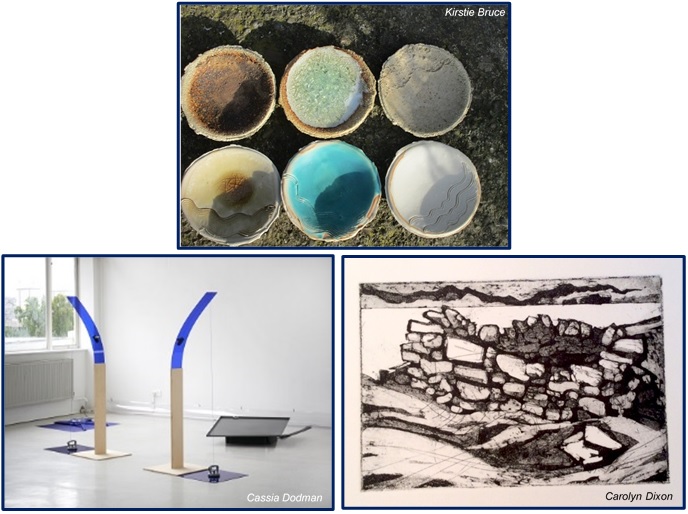 Funding granted to work with a mentor to improve knowledge and understanding of making glazes from raw materials to enable the creation of new colours and finishes in her ceramic practice.
"I couldn't have done this project without the award. I could have made some basic glazes...but it would not have been successful and therefore not have had such an impact on my work."
Carolyn Dixon
Funding granted for establishing ways to use intaglio in particular etching processes without impact on adjacent aquatic environments by developing an ecologically sound approach to intaglio etching.
"The process of investigation has sharpened the issues that I and other creative practitioners face living on a small island. Certainly receiving the award acted as a direct stimulus to action and provided a (rare) sense of validation."
Cassia Dodman
Funding used to train in welding practices with a local welder and software to produce professional documentation of practice as well as digital practice.
"The award allowed me to be much more ambitious with my expectations and with the scale of my work. The project has been a good stepping stone to other opportunities as the work was exposed to such a wide audience and I have gone on to collaborate with other artists and organisations I met subsequent to the exhibition."
India Johnson
Funding to research the history of women's weaving in Orkney and explore these practices, exhibiting in Alnmouth, Northumberland and in the Get Your Tweed Out event at Kirkwall Library.
"The fund meant I was able to invest in my painting and weaving practice, developing a body of work which investigated the role of women as an Observer. I used the cloth that I had woven as a subject in my paintings, and began to question the hierarchy between different crafts."
Martin Laird
"I applied to VACMA seeking funding for equipment to help me advance my computer animation skills and increase my productivity. Rendering computer graphics is hardware intensive and time consuming, and the equipment available to me was aging and somewhat limited."
"The inspiration for my current animation work is traditional Scottish fiddle music. There is a wealth of history and folklore contained within this music which I find fascinating. I selected a tune called The Fairy Dance for my story as it connects nicely with Orcadian legends about fiddlers playing for the 'fairy folk'. As sound is a key component of film making, especially one inspired by music, I purchased a microphone and sampler for use in recording and creative sound design."
The funding "..enabled me to purchase equipment and training materials [...] and allowed me to push myself creatively by experimenting with animation and sound design simultaneously."

Alex Leonard
Award given to enrol on an online course, 'Advanced Character Design' with Stephen Silver. The aim was to develop and improve illustration skill set.
"The course was very useful in exposing some of the hitherto unknown bad habits I have picked up [...] and while it was sometimes difficult to take on board (!) it was a real eye-opener and has fundamentally made me a better designer."
Diana Leslie
For Acrylic Resist Etching training at Edinburgh Printmakers to gain insight into innovations in processes:
"Fundamentally I have ironed out conflicts between older ways of doing things and new ways. You can't teach when you aren't sure why things aren't working right. I needed the expertise of specialists in my field. The award was essential to going away and doing the project. I couldn't have afforded the travel, the course or the time without your support".
Jack Whitwell
Funded to undertake research and a period of experimentation in 'photographic sculptures': photographic installations that can exhibit in a three dimensional manner.
"Using the research I had gathered I applied (and was successful) for the Balfour Transition commission to produce larger scale photographic sculptures to exhibit at the new hospital, which has taken the project to a stage I didn't think would be possible. It has also pushed my practice artistically and professionally. The period of research was the most vital element of the whole project as it gave me a greater understanding of where I live and the history behind the place. The research project has developed organically into a larger more public fronted project that has engaged with a wide range of people. This wouldn't have happened without the initial award that allowed me to undertake research and a period of experimentation."
Rosey Priestman
2018-2019, Gardemeles Museum
"I used the award toward buying the equipment I needed to take photographs of my collection of found objects (and training). My creative practice has expanded with photography becoming a new and important element. The session with Rebecca Marr was very important, until this project I have always worked things out for myself, so it was a very positive and interesting experience to discover how valuable it was to receive instruction. Teran Community have asked me to do a feature on the museum and Simple Things magazine. I've been approached by a fashion photographer who is interested in a photoshoot/ collaboration and I've had interest from other museums such as Elgin, Pitt Rivers and the Fitzwilliam. The award made a critical difference as the Museum was not in my means without that financial help. It was also encouraging that my idea was accepted."
Find out more on the website (link available from the 'Related Sites' section of this page), or by following the museum on Instagram (@gardemeles.museum).
Leila Dearness
"As an Orkney based illustrator and papercut artist, I am constantly inspired by my surroundings to design and produce work that reflects the spirit of the island and its inhabitants. My designs tell a story, expressed through the delicate and bold nature of papercutting. Each piece is hand cut with a scalpel to reveal the fastidious detail within the design."
Further information can be accessed from the 'Leila Dearness Papercuts' Facebook page (link available from the 'Related Sites' section of this page).
Doors Open Days 2020
Again this year Orkney took part in the Doors Open Days.  Scotland's biggest free festival of architecture presented its largest ever digital offering in September, as we celebrated Scotland's buildings and stories online, through tours, lectures, DIY learning events and more.  In response to current concerns surrounding COVID-19 Doors Open Days 2020 was digital so that people across Scotland and the world can continue to safely explore Scotland's buildings, spaces and places.  This year we had 17 participants which is the largest number of Doors Open participants from Orkney.  You can see the full list at www.doorsopendays.org.uk or view a selection below: