Birsay Outdoor Centre and Campsite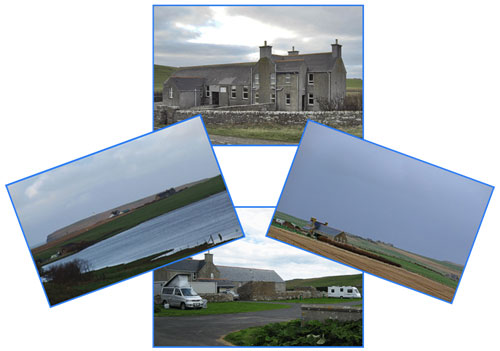 Set in a rural location just outside Birsay, in the northwest corner of the Orkney Mainland.
This hostel offers visitors comfortable 3 star accommodation which comprises 5 bedrooms, sleeping 26 persons in total. Bed linen is provided, however, guests must bring their own towels.
Outside in the extensive grounds, 28 pitches are available with 13 electric power hook-ups. The centre and site are fully accessible for disabled guests. There is a toilet and shower block on site with washing facilities.
Address
Birsay Hostel, Orkney, KW17 2LY.
Opening Times
The Outdoor Centre is open April to September. Out of season booking may be available by arrangement for large bookings.
Check-in time: by arrangement.
Departure time: 10:00.
Facilities
The Centre has 5 bedrooms and 26 beds in total.
On the first floor are:
'Brough Head' for 4 (2 bunk beds).
'Oxtro' for 2 (1 bunk bed) with ensuite washbasin and shower, and views over the Brough of Birsay.
On the ground floor:
'Barony' for 6 (3 bunk beds).
'Marwick' for 10 (5 bunk beds).
'Lower Palace' for 4 (2 bunk beds) with ensuite washbasin and shower.
All bed linen is provided. There is access to the hostel all day once check-in is complete. The Centre has a well-equipped kitchen, dining area, small lounge and drying room.
Prices
Charges for all Council services can be obtained from the 'Council Charges' page which can be accessed from the 'Related Links' section of this page.
Availability and Bookings
We would encourage members of the public to use the online booking system as telephone and email bookings will incur an additional admin charge.
To check availability or to make a booking online please follow the link provided in the 'Related Sites ' section of this page.
If you require any further information or need assistance making a booking, please do not hesitate to contact Stromness Customer Services using the details below.
Telephone: 01856873535 extension 2901 or 01856850907.
Email: Stromness Customer Services.
Stromness Customer Services opening hours are available from the 'Related Links' section of this page.
Terms and Conditions
Full terms and conditions are available in PDF format from the 'Related Downloads' section of this page.