Orkney Sustainable Energy Strategy 2017 - 2025
A Sustainable Energy Strategy for Orkney has been developed in partnership by, among others, Orkney Islands Council, Highlands and Islands Enterprise (HIE), Community Energy Scotland (CES) and the Orkney Renewable Energy Forum (OREF), on behalf of the wider community.
It presents a vision for the islands:
'A secure, sustainable, low carbon economy driven uniquely by innovation and collaboration, enabling the community to achieve ambitious carbon reduction targets, address fuel poverty and provide energy systems solutions to the world.'
Consultation took place in March this year with relevant partners, including the local supply chain, as well as the wider public and the strategy was endorsed by the Orkney Partnership.
A copy was presented to Paul Wheelhouse MSP, Minister for Business, Innovation and Energy, on 26 October 2017, who performed the opening ceremony for the CES-led Surf 'n' Turf project.
The strategy sets out five targets for Orkney:
The achievement of ambitious carbon reduction targets.
The reduction and eradication of fuel poverty in Orkney.
Positioning Orkney as the globally recognised innovation region to develop solutions for the world's energy systems challenges.
Ensuring a secure energy supply during transition to a low carbon future.
Maximising economic opportunity and investment in Orkney.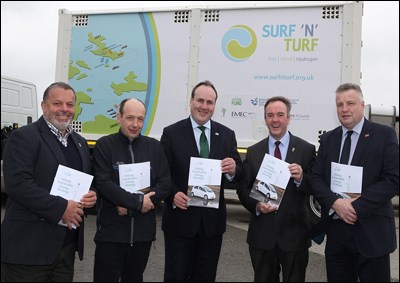 The image above shows the unveiling of  the Orkney Sustainable Energy Strategy. Pictured, from left to right, are Gareth Davies, Chair of the Orkney Renewable Energy Forum; Mark Hull, Community Energy Scotland's Head of Innovation; Paul Wheelhouse MSP, Minister for Business, Innovation and Energy; James Stockan, Leader of Orkney Islands Council, and Graeme Harrison, Area Manager for Orkney for Highlands and Islands Enterprise.
The next step will be to develop an action plan to help the islands reach these goals. The Strategy is available to download from the 'Related Sites' section of the page, and any enquiries can be sent to the Sustainable Energy Strategy e-mail address.
The 2009 Orkney Sustainable Energy Strategy and Strategic Environmental Assessment documents
To view the original 2009 Sustainable Energy Strategy and related Post Adoption Statement and Final Environmental Report, please click on the relevant  links in the 'Related Downloads' section of this page.