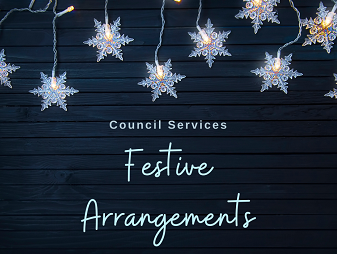 Waste and Recycling
General Information
This section contains information relating to the collection, recycling and disposal of commercial and household waste in Orkney. You can also find information on Waste plans and how to Reduce, Reuse and Recycle your household waste.
The material you throw away costs money to dispose of (approximately £150.00 per tonne) as the Council has to ship the general residual waste to Shetland for incineration. By reducing what you throw away in the first place or recycling these materials instead, not only do you contribute to the sustainability of our environment, but you also make a very valuable contribution to us as a council in saving money that can be re-invested in other key services.
All Waste and Recycling pages can be accessed from the 'More pages in this section' menu.
Love your bin - love your bin collector!
Below are some reminders of the simple things you can do to help bin collections run smoothly and prolong the life of your bin.
Taking these steps will help our crews empty bins quickly - and safely - and complete their schedules so that everyone's bin gets dealt with.
Have your bins out at the designated collection point by 8am (or your Council-issued bags if you use those) . Routes do change from time to time so whilst you might be used to getting your bin emptied at a certain time of day that doesn't mean it will always be done at that time. Putting your bin out by 8am means that it won't be missed. Don't forget to bring it in as soon as you can after it's emptied.
Remember to put the right things out on collection day – you can check the website for details at www.orkney.gov.uk/mybins
Clean bin handles before and after putting it out - to help minimise the risk of the spread of COVID-19 and other nasties.
Put bins with within 2 metres of the public carriageway. Bear in mind that a small side road, farm access road or unadopted housing scheme may appear to be 'roadside', but they may not be in fact be a public road – if you are unsure, get in touch with the Council to check.
Make sure you leave your bin where it can be easily seen by the operatives so that they don't overlook it - don't hide it behind cars or leave it halfway up your drive. Handles turned outwards is really helpful and means the operatives can get hold of your bin quickly and easily.
If you use cords to tie your bin down it's really important to remember to take them off on collection day, as our operatives don't have time to untie secured bins. And please no bungee cords – they are an injury risk for our crews, particularly to their eyes.
Please don't put rocks/bricks or other heavy items on top – it's really bad for the bin, and lifting them is a health and safety issue for crews - so bins weighed down in this manner will not be emptied.
Report a broken or split bin as soon as you notice. Don't be tempted to risk using a broken or split bin – it's a safety risk to crews and passerbys if bins split or fail during the lift. Instead, let us know so we can replace your bin as soon as possible. There is currently no charge for replacement bins.
Remember to look after your bin – store it out of sunlight in a sheltered place if you can, and don't overstuff it. Pay special attention when disposing of heavy and dense materials such as ash. Food waste and disposable nappies are high in liquid and can quickly add up to an overweight bin – actively minimising food waste and using washable nappies when you can are two great ways you can reduce the waste you generate and look after your bin.
A word about caddies - we no longer accept waste in caddies, either inside a bin or presented separately (this has been the case for some time now). Compared to wheeling a bin to the lorry and hooking it on, the additional actions required with emptying a caddy adds considerable time to the collection routes, meaning that we may not be able to get to all households as planned. But equally importantly, caddies also represent an additional manual handling burden on staff, with the health and safety issues that go with that. So please don't present caddies for collection – putting your recycling in a bin is the safest and most efficient way of making sure that it can be collected properly.
Bin too full? We don't pick up 'side waste' - waste left beside bins or not in a Council-issued bag. This is to minimise the heavy lifting crews are tasked with - and the vermin risk. So please don't leave extra waste out beside your bin, or overstuff your bin. Speak to us instead about whether you might qualify for our additional capacity service (a larger or additional bin) - or if it's only an occasional problem for you, recycle what you can, hold over extra waste for the next collection, or visit one of our HWRCs (household waste and recycling centres). Check ahead what's accepted at each HWRC, here: https://www.orkney.gov.uk/Service-Directory/R/Recycling-Centres-Civic-Amenity.htm
Orkney's Waste Transfer Site - where all your waste and recycling goes
All waste and recycling from households and businesses including materials collected from Orkney's Household Waste Recycling Centre network is delivered to Chinglebraes (Orkney's Waste Transfer Site).
Some waste continues to be landfilled at Bossack – but this is a small inert landfill site only. Waste and recyclates are baled and containerised. Recycling is shipped to a range of different re-processors on the Scottish Mainland and in England. All waste that cannot be recycled is shipped to Shetland Islands Council's EFW Plant (Energy from Waste). The waste at the Gremista facility is incinerated and powers a district heating scheme in Lerwick.