Website Images
The Orkney Islands Council website provides information on Council Services available to the people of Orkney. In doing so we want you to feel that this website really is the website of the Orkney Community as a whole. We would like to invite photographs from the community for inclusion in our website banner. We welcome images from the mainland and islands that depict Orkney, it's services, it's people and it's culture.
Submitting Photos
What we look for in an image for inclusion is an image that can easily have a section of the picture copied and set into the web banner template. Because the banner is of set proportions we look for images that are more of a panoramic layout. An example is shown below where a wider image can be extracted from a normal photo. In the image a white rectangular border is shown around the area of the photo that will be copied for inclusion.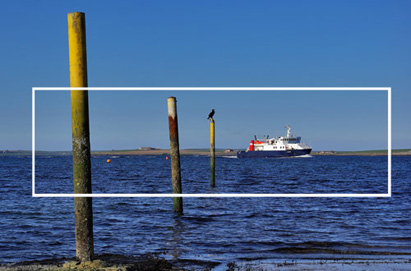 Important Notes
All images that are submitted must follow the criteria detailed below;
All photographs must be taken in Orkney.
The copyright must belong to the person who sends in the photo, ensuring that the sender has the rights to allow publishing of the photo.
For Data Protection Act 1998 purposes, we also need to have the explicit written consent of all persons (or the persons' parents or guardians if those persons are children) whose image appears on any photograph. This should cover the intended usage.
If considered appropriate and of sufficient technical quality the photos will be displayed on Orkney Islands Council's website and may be used in other council publications.
Photo credits will be given in all cases where we use any image.
Please note that it is possible for any pictures published on the Internet to be copied and used by others. Should you not wish to accept this possibility, we cannot include your photos on our site.
Sending in your photos confirms that you accept these terms.
Images must not be submitted for the purpose of advertising products or businesses.
To submit a photo please email communications@orkney.gov.uk