Stromness Academy pupils and staff have been doing their bit to scare away hunger this Hallowe'en.
There were some spooky goings-on at the school on Friday last week – in aid of the Orkney Foodbank.
They held a "Spooky Dress-up Day" raising nearly £150 and over nine boxes of food were donated.
This charity was chosen by the S6 pupils as they thought it is very important issue for young people right across Scotland.
Rhoda Walker, from Orkney Foodbank, said: "The Foodbank was absolutely delighted to receive the food donations and the money and we would like to extend a huge thank you to the staff and pupils for the amazing donation."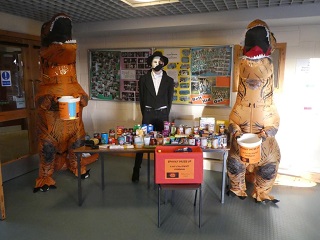 Pictured with just a small proportion of the donations are Hamish Burgeon, Jamie Leitch and Ellys Gunn.