Orkney Islands Council's Alison Bews has been at the forefront of supporting folk with disabilities - bringing creativity into the lives of some of the county's most vulnerable for the past 40 years.
She has been a continual presence for anyone using St Colms and the Lifestyles Services, beginning her career with the Council at the age of 17 on leaving Stromness Academy.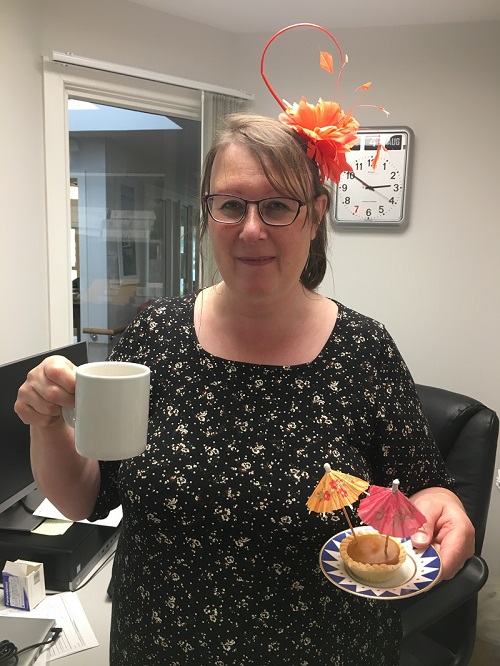 Unfortunately, Alison, was unable to enjoy celebrating the milestone with colleagues at St Colms or the Lifestyle Service as the facilities had to close several months ago due to the coronavirus crisis. It meant staff being redeployed to other areas to assist and saw Alison playing a significant role during the pandemic working with elderly rehabiliation within the Brinkies wing of Hamnavoe House in Stromness. Alison has put to good use her considerable skills to the benefit of the service users undergoing rehabilitation prior to returning home. Happily, planning is underway now to reopen day services as soon as possible in line with Scottish Government guidance.
Alison explained how it all began: "During my last year of school I developed an interest in working with folk with learning disabilities and after a visit to St Colms I knew that was exactly what I wanted to do. I was very lucky as a job for an occupational therapy aid came up within St Colms so I applied and got it. That predominantly involved doing craft work with people with both learning and physical disabilities, folk with mental health issues and older members of the community.
"I remained in this post for the next ten years and I loved it! It was a great privilege for me watching folk creating and achieving things they maybe had never thought possible through the likes of sewing, knitting, making stools and it was so satisfying for them to learn and achieve. It was always great fun and very social."
She then became a day centre officer, still within St Colms, for the next ten years, teaching pottery in the workshop and helping users of the service to create all kinds of ceramic pieces.
Alison continued to further her career by completing an HNC in Social Care through Orkney College and was promoted to an acting senior day centre officer role still at St Colms.
"That involved a more supervisory role of other staff and was office-based. There were days when I questioned whether I had made the right move as I came away from the 'shop floor' so to speak, however, I am lucky in that I still have the close contact with users of the service and I still help out with the crafts when needed."
In 2015 a new Lifestyle Centre, to replace the facilities at Keelylang (a day centre for adults with learning disabilities) and to provide easy access to the health, leisure and entertainment facilities available at the Pickaquoy Centre, opened.
This also marked the start of the new Lifestyles Service for adults with learning disabilities, merging the day services offered at Keelylang and St Colms.
"All the staff teams came together and that is when I became a senior lifestyles co-ordinator and go back and fore between St Colms and the Lifestyles Service at the Pickaquoy Centre, or I did until covid-19 put a stop to that overnight and the services had to cease meantime and all staff were redeployed. But we are endeavouring to reopen our doors as soon as we can dependent on Scottish Government guidance expected later this month.
"I carried out management training at the College to assist in my role which remains supervisory and planning staff rotas for example. In terms of the service users, it's about making sure they are happy with the service they are getting and achieving what they want to. We are continually developing the service as well but we are very proud of the model we have at St Colms with the workshop, the cardmaking, the shop itself where users can sell the products they have created, and the café where users assist Orkney College staff in preparing food for customers to enjoy.
"We have a fantastic relationship with Orkney College in terms of staff training and they are exceptional in working with our service users and developing courses for them which is greatly appreciated by us all."
Looking back to highlights over the 40 years, Alison mentioned the sheer delight on the faces of users on accomplishing something or just enjoying an activity or outing.
"We used to have a lot of trips away with service users, twice to Edinburgh, Butlins and we were involved in the Islands Summer Sports School trips so went to Malta, Gotland, Guernsey, Jersey and the Isle of Man. They were such great fun. This is a job I have really loved for the most part – as for a career you will not get much better!"
Ross Groundwater, manager of the Lifestyles Service & Orkney PPE, praised Alison's dedication and passion for the job.
"She is always willing to go the extra mile to try and make people's days a happier one. She has excellent people skills and has built and maintained meaningful professional relationships based on trust. She has a wealth of experience, which affords her great calmness under pressure and she particularly enjoys the problem-solving aspect of her role.
"She embodies the Council's values of equality and fairness promoting these with great integrity. She loves to bring creativity and innovation to her role and has been integral in developing the enterprising work strands and products made at St Colms - valuing individual's strengths and motivating them with great leadership skills. She is always there for people when they need her, she is kind, caring, thoughtful and understanding to all and couldn't be a better colleague.
"We are extremely lucky to have her working with us at the Lifestyles service and she is greatly appreciated. On behalf of all the staff, service users, parents/carers and volunteers, we all wish her all the best for this amazing milestone, we are all looking forward to having a bigger celebration with Alison when we can."