A popular lollipop lady has retired after nearly quarter of a century helping keep children safe while crossing some of Kirkwall's roads.
Joan Brammah, who celebrates her 66th birthday this week (September 10), has hung up her high-vis jacket saying now is the time to bid a farewell to the role after 24 years.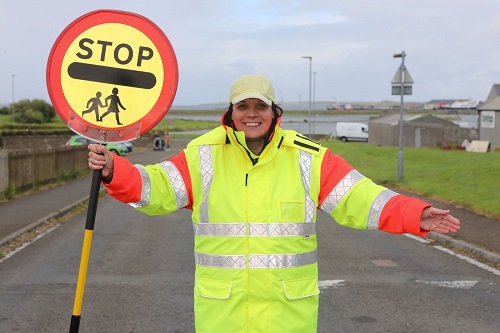 She began as a relief school crossing patrol officer, as they are officially known, on May 27, 1996, covering the top of the Clay Loan. After around three years a permanent post came up at the Pickaquoy Loan/Co-op crossing near Glaitness School, so Joan applied and moved there, where she has remained for 21 years.
The morning and afternoon hours suited Kirkwall's Joan and fitted in with her other job as a cleaner.
She said: "The best bit about the job is getting out and meeting people and watching the bairns growing up – there's been a good few generations cross that road! I enjoy speaking to the children and their parents and watching the families grow.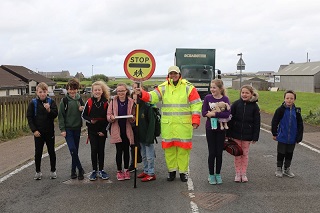 "The worst bit is definitely the weather – I don't think I could stand another winter out there and that's why I have decided to retire now. The time is right. I will miss it, especially the people, including all the staff at Glaitness – it's a grand peedie school and I've made lots of friendships."
There's been a few changes over the years but most notably in the increased level of traffic on Orkney's roads, Joan added.
"I would just ask one thing of drivers and that would be to slow down a bit. There's no need to be in such a hurry all the time. We must all do our bit to keep all our bairns safe while they are out and about."
What makes a good lollipop lady?
"You need patience and to communicate with the children – speak to them and you will get on fine and always be polite."
Joan laughed as she recalled one story: "I was across in Thurso and heard this bairn shouting 'hi lollipop lady!'. I shouted back a 'hello' and I was thinking, I can't leave the island without being spotted!"
Head Teacher at Glaitness School, Ingrid Rendall, said Joan will be missed.
She said: "Joan has been such a dedicated SCPO and is always a cheery face to see in the morning. She has really benefitted so many children over the years in keeping them safe as they head to school. Her enthusiasm for the job has always been there during rain, wind or sunshine. We at Glaitness would like to wish Joan well on her well-deserved retirement and thank her very much for over two decades of service."
OIC chair of the Education, Leisure and Housing Committee Councillor Gwenda Shearer added her thanks to Joan.
"I am sure Joan will be greatly missed as a friendly and familiar face for many bairns on their way to and from school. Our school crossing patrol officers have a very important role to play in ensuring our youngsters are able to start and end the day safely.
"Joan's sterling service over nearly quarter of a century must be commended and on behalf of all councillors I thank her."