Orkney's Marine Services is enjoying a surge in oil industry activity despite the worldwide coronavirus pandemic.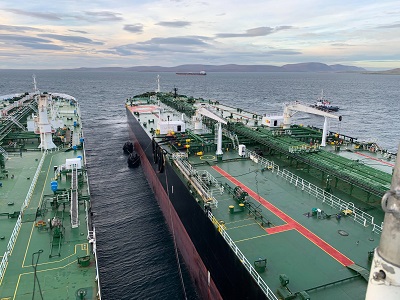 While other areas, such as cruise, have been decimated as a result of the virus, the local Harbour Authority is busier than ever with ship to ship tanker operations and additional traffic taking advantage of the Flow's deep sheltered waters.
A large number of tankers and oil platforms have been anchored in the Flow over recent weeks – at one point there were a dozen vessels, including tankers, rigs, barges and container ships.
Although there for various reasons, most were and are, connected to ship to ship transfer operations.
However, there was one more unusual occurrence with the coming together of two Very Large Crude Carriers (VLCC) – Alexander the Great and the Appollonas – both around 330m long, 60m beam and a draft of between 18-20m – two of the largest tankers in the world.
Planning was key to this operation, requiring five tugs to ensure their safe and successful mooring together ahead of the transfer of a significant amount of crude oil.

Talking about the welcome surge in Scapa Flow Oil Port activity, OIC's Head of Marine Services, Transportation and Harbour Master Jim Buck said: "Most of the activity centres around the oil business – oil brokering has really taken off and we are one of the two places in the UK that can transfer oil between vessels and we are the more sheltered option.
"What we are seeing in the harbour is effectively a queue of tankers waiting to transfer bulk oil quantities between each other which then go out to the wider market.

"We have been lucky in that we have managed to keep the flow going through these ongoing challenging times. While the team work very hard to try and ensure business comes our way, the oil industry is a very fickle business – so we will definitely make the most of these opportunities as they come our way."

Mr Buck added: "This is much more than a Harbours operation – with others benefitting including local agents, fender providers, base staff, cargo surveyors, those who supply stores to the vessels while here – the busier we are, the more the wider Orkney economy benefits."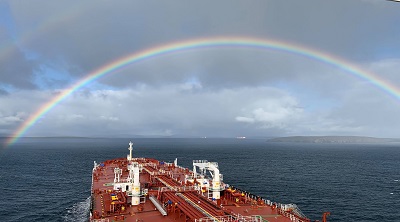 Scapa Flow has long been recognised within the industry as a European centre for excellence for ship to ship operations, with experienced and knowledgeable pilots, pilot crews, tug crews and operational staff.
Since 1980, more than 420 ship to ship transfers have been conducted in the Flow involving over 600 vessels.
Mr Buck added that with an uncertain future ahead for the 2021 cruise industry it was vital that they looked to diversification of the port, enabling works which could assist with increased income.
"My team are working tirelessly to try and secure resource and revenue from alternative sources and to this end we have seen an increase in income from the higher than anticipated number of operations in the Flow; additional income from anchorage and within the area of oil pollution. However, this has to be taken into context with the considerable loss in income from the cruise industry – this year around 160 liners had been due to call – we only had one in February.
"We must face the likelihood that it is highly improbable that the 2021 cruise industry will go ahead – certainly in any format we are used to – so we must be mindful of the losses which will continue to be felt there."
Chair of the OIC's Development and Infrastructure Committee, Councillor Graham Sinclair, added: "It's great to see the Flow so busy, especially when so much of what has become 'normal' Harbour activity, such as cruise, is currently disrupted.
"Volatility in the market has created a spike in crude deals and trans-shipment. While successfully attracting the sheer numbers of tankers for ship to ship operations during this window of opportunity is impressive in itself, it is the variety of vessels in the Flow that is testament to the sterling efforts of Marine Services to keep our Harbours busy and profitable.
"There are tankers of all sizes, including VLCCs, rigs/platforms and container ships as well as creel boats, ferries and until the end of the season, dive boats. I must say that it is also particularly pleasing to see our new Harbour tugs so busy and seamlessly taking on their role in Harbour operations."