St Andrews Nursery and Adult Befriending Service – bridging the gap between young and old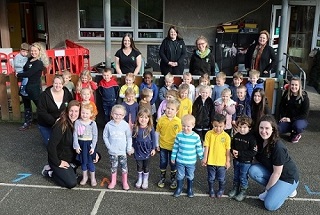 Young children from St Andrews Nursery and older members of the East Mainland community are joining forces in a new pen pal initiative called "Bridging the Gap".
The new scheme will bring together different generations from the age of three up to 90!
Isolation among some folk has never been more prevalent than during these ongoing challenging times following a period of lockdown and ongoing restrictions.
The nursery's original idea of meeting up with folk from the community within the school hall has had to be postponed meantime, so staff had to come up with an alternative.
St Andrews Nursery Early Learning and Childcare Manager, Helen Corbett, explained that the original idea came about following a "Generations Working Together" meeting when she met with Kasia Gorzkowska, Development Worker for the Adult Befriending Service based within Voluntary Action Orkney.
"We instantly thought we could do something together, so we arranged to meet up. With no nearby care home facility, we decided to use St Andrews School hall once a month and she would arrange for a group of older people to come visit us, play, have a snack and do some singing and storytelling.
"Then lockdown happened so that was the end of that! But last week I attended an online training event organised by Generations Working Together, and, as chance would have it, myself and Kasia were paired up in a working group and started planning how we could set up an intergenerational project.
"After speaking about the original plans, I suggested we could do something with the same group which meant we could build up links to look to meet up in the future."
The pen pal scheme emerged, which they have decided will be developed into a floor scrap book, meaning all that is sent out by the children and everything that is received in return, will be kept and stuck into a large book to document the journey.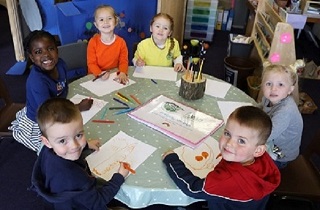 Packs will be sent to folk who are participating which will include things like drawings done by the children but also craft materials so they can make their own creations for sending back to the bairns at the school.
Helen continued: "This will continue backwards and forwards until we can meet up. The children will lead the project after that initial contact, deciding for themselves what they want to send to them. They may have to reply to questions they have been asked.
"We are also looking into the possibly sending videos of the children singing, dancing and having stories read which the older participants can then watch. We hope to encourage the adults to also be filmed reading stories or singing songs they like which the children can then watch.
"This project could go anywhere - we all know how imaginative 3 and 4-year-olds can be! The benefits of this type of project can be immense, elderly people can become isolated and lonely and lose motivation but the joy of children can reignite that fun side of people.
"We also have children in the nursery whose grandparents don't live in Orkney or don't have their own grandparents so interaction with older folk can help them and teach them.
"Intergenerational relationships are so important to build our communities and teach children respect for our elders. For young children to begin to understand difficulties older people face can only be a positive thing."
All staff at the nursery will play a pivotal role in running the initiative and encouraging the children to participate.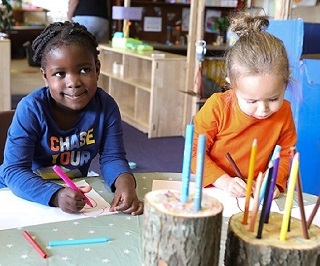 The Adult Befriending Service has many years of experience in developing and delivering intergenerational projects. Kasia said one of her main roles is working on intergenerational matters, coming up with ways to bridge any gaps.
"In the past, our intergenerational groups have been in conjunction with different youth groups so this new group is something quite different and exciting for us."
She explained that some in our communities have felt a deepened sense of isolation during the pandemic.
Kasia said: "Many of those who will be taking part in this very exciting project have led very social and active lives attending different clubs, continuing with activities whether leisure or sport, and, unfortunately, these were stopped during lockdown.
"This led to heightened feelings of isolation and loneliness among some, so this initiative is about giving people something to look forward to and the chance to connect with new people. Some may not have experienced the joy of grandchildren for whatever reason – this will facilitate the building of new relationships.
"We hope this will break down some of the stereotyping of 'older' people; through discussions they may find out they have a lot more in common than anyone could have realised. Most of all we just want them to have fun!
"We hope that the day will come when they can then all meet up face-to-face without the need for social distancing and masks – what a joy that will be for them all!"