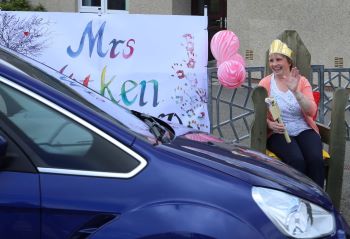 A surprise retirement celebration saw several hundred teaching staff, parents and pupils turn out in their vehicles to wish Alison Aitken a happy retirement after around 40 years as a teacher in the county.
Alison was invited along to St Andrews Primary School – where she has taught since it opened in 1995 – for what she thought was a low key get together and a cup of tea to say goodbye to her colleagues. The coronavirus had halted any more traditional celebrations, so staff had to think out of the box.
After enjoying a video montage containing messages and music from staff members at the school, Alison was taken outside to a waiting "throne". Parents and pupils had been asked to pop along in their vehicles for a lockdown and safe socially distant drive by – and were asked to roll down their windows and pass on any retirement wishes to Alison.
It had been estimated that the drive-by would take around 15 minutes – almost one hour and dozens of vehicles later and all who had turned out – some in decorated cars – had passed on their best wishes to the teacher who has been dubbed a "legend" by many.
Alison was taken aback by the "lovely" surprise and left overwhelmed by everyone's efforts, kind wishes, cards and gifts.
She said: "Everyone had gone to so much effort in pulling together this fantastic surprise for me, especially challenging for them at this time! It was so lovely to see all my colleagues, parents and pupils again."
Alison graduated from the Aberdeen College of Education in 1978 – but a career in teaching may not have happened, as she explained here.
"I always wanted to be a teacher, but I did go through a rebellious stage as a teenager when I declared  three things I was never going to do - I was never going to be a teacher; I was never going to marry a farmer and I was never going to have kids. I must have seen the error of my ways and went on to do all three," she laughed.
She got her first teaching post in the spring of 1979 at Papdale Primary School within the infant department.
"What a lot I learned  during the four years I was there. That really set the foundation stones for my life as a teacher. The next six years were spent at home raising a family and it never crossed my mind that I would one day return to the classroom. Out of the blue one day, Mrs Gilmour, head teacher of the old St Andrews Primary school, phoned and asked if I would do two days' supply teaching.
"That was a real shock to the system. During the relatively short time I had been at home, so much had changed. There were computers in every classroom. I felt incredibly out of touch and lost."
But during the autumn term of 1979, she went back to Papdale as a volunteer - this very quickly led to constant supply work for the next two years.
Alison continued: "In 1991, I started teaching at the Holm Primary School where I was given a permanent job. That was a really special time as it was so different teaching composite classes in a rural setting. I have fantastic memories of my time at that school. During the last year of Holm Primary School I was acting Head until the school merged with St Andrews in December 1995 and we all moved to the new St Andrews School.
"I have loved my job, in fact I have never understood why anybody would want to pay me to have so much fun. I will certainly miss the staff and pupils, but I intend to visit often. One little boy asked today if I would come back and make him a tattie mountain. I promised I would. You can't beat a mince and tattie mountain!"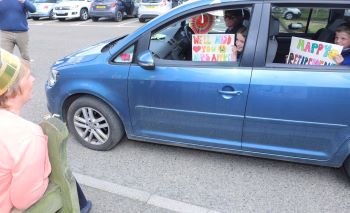 St Andrews Primary School Headteacher Mark Taylor commented: "Mrs Aitken the legend, a title earned over many fruitful years! She has finished her teaching career in a very unusual way, but Alison says she has finished on a high. She has thoroughly enjoyed the relationship she developed with the P1s and their families over the last three months of online learning.
"For us at St Andrews it was always going to be difficult to say goodbye to Alison but the circumstances we found ourselves made it even more difficult!  However, the staff rose to the challenge, organising a super send off. She is such a well known and loved figure in the community, as seen from the amazing response on Facebook, with ex pupils and families and colleagues sharing their memories and the wonderful hour-long drive-by farewell, with Alison seated on a throne outside the school!"
He continued: "One of my special memories is of her P1 pupils excitedly telling me that Mrs Aitken was pleased with them that she was dancing on the tables! Lots of folk also shared this memory too and Douglas Montgomery has named the tune he wrote for Alison, 'Dancing on the Tables'.
"Once again, I would like to thank Alison on behalf of the pupils, parents and staff at St Andrews for her many years of fun filled hard work and we wish her well for her retirement and many more dancing days to come!"
Chair of the OIC Education, Leisure and Housing Committee, Councillor Gwenda Shearer shared her praise for Mrs Aitken's efforts over the years.
"Alison is so highly thought of throughout Orkney as a first-class teacher, who has given many, many children the solid foundation in education that is so vitally important in those early years. She will be sorely missed, but we must be grateful that so many parents and pupils have benefited from her sterling efforts for so long. We wish Alison a long, healthy and happy retirement."