"I now know the steps I need to take" - Residents urged to register for free flood assessments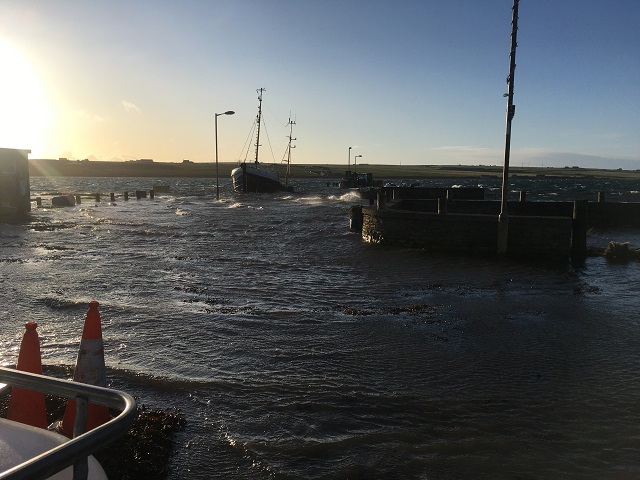 Orkney Islands Council is urging property owners in flood prone areas of Orkney to take advantage of free Property Flood Resilience (PFR) assessments being provided by the Scottish Flood Forum (SFF) when they visit the county again in April.
It's estimated there are 2,300 people and 1,900 homes and businesses at risk from flooding in Orkney*. This is estimated to increase to 2,700 people and 2,200 homes and businesses by the 2080s due to climate change. By far the majority of the identified risk is from the sea with the remainder from surface water and overtopping watercourses.
The Council worked closely with SFF in autumn last year to run flood protection awareness events with residents. Following their September workshops, SFF are returning to Orkney between Monday 25 and Friday 29 April 2022, in order to carry out a number of free PFR assessments which will provide householders with a detailed report on flood resistance measures for their respective properties from a recognised independent and impartial expert.
A householder in Burray already working with Scottish Flood Forum on an assessment for their property says its information and advice they can trust: "We know that our property has flooded in the past and I had spent time looking online but it's really difficult to find good information that you know is reliable. After speaking to Paul at the SFF stand in Kirkwall I attended an online meeting. They have provided me with loads of great information and advice and I really feel that I'm moving forward now in knowing the steps that I need to take. The SFF have been so helpful and have been completing a free flood survey of our property, with advice and priorities tailored to our situation. I can't recommend them highly enough. I would definitely recommend to people that they get in touch with SFF and make use of this amazing service."
The Council's Corporate Director of Neighbourhood Service and Infrastructure, Hayley Green, said: "The Council's main role during a major severe weather incident is focused on direct support to the emergency services and the most vulnerable members of the community which are identified by health and care services and other partner agencies. We also work closely with SEPA to identify flood risk communities and hotspots and have in place preventative measures for those areas such as flood barriers which are deployed in advance of forecasted bad weather.
"So while we are not responsible for preventing flood at an individual property level, as a Council we are required to raise awareness of the various forms of flood risk and promote self-help and preparedness amongst property owners.
"Everyone is responsible for insuring and protecting themselves and their property from flooding. Taking part in a free Property Flood Resilience assessment is one way people can learn about the simple measures they can take to better protect their properties from flooding – and from the significant financial and emotional impacts of a flood.
The SFF is the only dedicated charity in Scotland that supports flood risk communities. Their aim is to reduce the impacts of flooding on individuals and communities, through providing immediate support and by establishing a network of community resilience groups in flood risk areas to equip communities to cope with the impacts and threat of flooding. The SFF is supported by grant funding from Scottish Government and has been supporting communities who have experienced flooding or are at risk of flooding to build resilience since 2009.
The Forum's Senior Community Resilience Manager, Paul Laidlaw, said: "The SFF recognise the significant challenges that the climate emergency presents to flood risk communities with the number of properties at risk of flooding across Scotland forecasted to increase from 284,000, to approximately 300,000 by 2080.
"Our free Property Flood Resilience assessments consider what can be done to stop water getting in (resistance) and consider adaptations (resilience) that will help to speed up the recovery of a property if it is sadly damaged by flooding.
"We have worked with householders across Scotland helping them to make changes and invest in their properties to increase PFR. Once we produce a report for the property we can provide follow-up advice on how to source and install measures as every property has a unique set of circumstances."
To register for a free Property Flood Resilience assessment, call the Scottish Flood Forum on 07895 883170 or contact them via email.
Orkney Islands Council is required to publish a Local Flood Risk Management Plan for Orkney every six years. (The Local Plan takes forward local actions identified in the Flood Risk Management Plan for Orkney produced and published by SEPA. This SEPA document was formerly known from 2015-2021 as the Flood Risk Management Strategy). The current Orkney Local Plan (2016 to 2022) can be found on our Local Flood Risk Management page. A new Local Flood Risk Management Plan for Orkney is to be published by OIC by the end of 2022.
Advice on responsibilities, sources of information, preparation and practical measures to mitigate the effects of flooding can be found on our Flooding Information page.
Find out more on the Scottish Flood Forum website.

*SEPA's Flood Risk Management Plan (2021 to 2027) published Jan 2022 estimates there are 2,300 people and 1,900 homes and businesses at risk from flooding in Orkney. This is estimated to increase to 2,700 people and 2,200 homes and businesses by the 2080s due to climate change. The Plan is available via the SEPA website. 
Summary:

Orkney Islands Council is urging property owners in flood prone areas of Orkney to take advantage of free Property Flood Resilience (PFR) assessments being provided by the Scottish Flood Forum (SFF) when they visit the county again in April.

Category:

External Link: