25 January 2021
When Orkney, along with the rest of the UK, was swept into an emergency lockdown last year, the teaching profession was forced into a situation of largely unfamiliar practices – classes of remote, invisible pupils and a reliance on digital learning. In 2021, although in familiar territory, this time they were armed with previous knowledge and experience and teachers have come up with some innovative practices to continue learning with children and young people.
Orkney Islands Council's Executive Director of Education, Leisure and Housing, James Wylie, and Chair of the OIC Education, Leisure and Housing Committee, Councillor Gwenda Shearer commented jointly: "We are full of admiration for the profession – whether working in early learning, primary, secondary or onwards in tertiary education – for the way in which they have taken to innovation regarding technology and their general creativity in finding solutions to challenges which may arise. Many continue to go above and beyond the call of duty to try and maintain high levels of engagement with the children and young people. All deserve our thanks for their ongoing efforts."
Members of the profession share their lockdown learning experiences:
---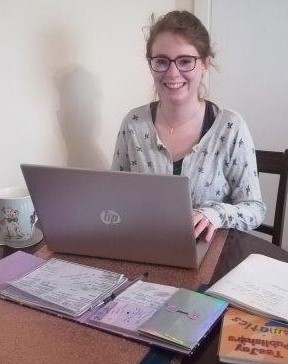 Name:  Rachel Moar
When did you qualify and what was your first job?
I qualified with a Masters in Chemical Engineering in 2015 and worked as an engineer for a couple of years in Aberdeen. In 2017 I moved to Orkney to train as a teacher and started my first teaching job at Stromness Academy in 2018.
What do you teach, which school and year, class/es?
I teach Maths and Science classes at Stromness Academy, the majority of my classes are S1-3 and I share a National 5 Maths class. I also work one day a week with online learning where I create tutorial videos, research into ways we can support online learning and help staff and students with any issues they might be having in regard to working online. This day is funded by Education Scotland which aims to develop and enhance skills and knowledge in Science, Technology, Engineering and Mathematics.
How do you set about planning for face to face and remote learning?
The majority of my working week is spent working at home – I am in school helping with childcare one morning a week. I try to plan all my online lessons a few days in advance just incase anything unexpected pops up. Since working from home again, it has been non-stop. Between live online lessons, staff and department meetings, planning lessons, marking work and supporting issues with Microsoft Teams, my days are full. It's all worth it though when you get positive feedback from students.
What are the challenges you and your pupils face?
The biggest challenge we face across Orkney is connectivity. As most people probably know, there are a few places in Orkney were connection to the internet is not great or non-existent. But Orkney Islands Council is working hard to come up with solutions for these families. In the first lockdown we had to ensure we had appropriate work for those with and without suitable internet access, but this time around Stromness Academy have distributed devices and is working with OIC to find solutions to lack of connectivity; where this is not possible we have offered pupils time in school. This has made it possible to provide live online lessons.
Another issue is being able support students one-to-one. When we all returned to school after summer we were able to effectively prepare and train students in how we would support them in case we found ourselves in a similar situation as the previous term. The transition into remote learning this time has been smoother and students are fully aware of how to communicate to staff if they are having issues. So far, feedback I've had from my students is positive and that they are accessing the work without major issues.
Describe any innovative practice
I like to try new things with my classes. So far at Stromness Academy we've done a lot of live online classes with qualification classes, and these groups aren't very big so I wanted to try one on a bigger scale with younger students. I feel it's an important way to engage students, make them feel like they are still part of the school and keep them motivated to work from home.
I've now had my first live online lesson with all of the S1's in Maths, and we had a really good turnout. We used it as a lesson to catch up and discuss how we're feeling about online learning and play a game of Kahoot together. Kahoot is an online multiple-choice question game where you get points for getting the correct answer, but more points the quicker you answer, and students love it. It is also a good way for me to assess pupil level of understanding and if there's an element they're finding tricky I can help with any misconceptions they have. It's a very handy learning tool. Feedback at the end of the lesson from students were that they really enjoyed it (wanted to play another game) and that live online learning is something they would like to do more often. Video calls with classes are also a really good way to check students are confident with the type of work I've been setting them and if I need to alter my style in any way to make their experience better.
The other Maths teachers also joined in the lesson and felt like it was a success as we had great engagement and enthusiasm from students. We're now also holding weekly live online sessions in Maths for every year group.
To share my experience of doing this, I am holding a training session next week on online lessons using Teams which is available for all teaching staff across Orkney. I've already had quite a few people show interest, so I know that online lessons are going to become even more commonplace across the authority.
Do you feel you are managing to connect and engage with pupils?
Using Microsoft Teams has made it easy to connect with students and communicate as a class. In lockdown one we weren't able to see students in video calls as the function was switched off across Scotland, but this was changed at the end of Summer. Being able to see and hear students now and for them to see and hear you is really nice way of connecting and engaging with students. It gives you an insight into how they are managing their work and if you need to modify tasks that you have given them. It's also a good reminder that we're a class and not just individuals spread across Orkney.
What would be your advice to parents and pupils?
Advice I would give to parents and families would be to be patient with technology – Teams especially has been slow this week and we've all found it frustrating. Also, to take lots of little breaks and get outside and moving! Sitting all day at a computer isn't great for our physical and mental health so we need to get away from it sometimes.  It's difficult to switch off, especially when your work is home with you. I've found myself working till late as there's no bells to remind me of the time. Be good to yourself!
Do your pupils continue to show resilience?
Resilience is an important part of Stromness Academy's vision and I've been so impressed with how well our students have adapted to all the changes, they are taking it all in their stride and remaining positive.
---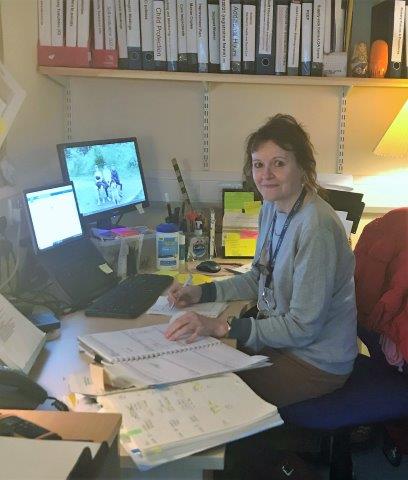 Name:  Caroline Easton
When did you qualify and what was your first job?
I qualified as a nursery nurse in 1984 and my first job was a nanny in Canada. I later achieved a BA in Childhood Practice.
What is your job title now?
Nursery Manager, Papdale Primary School.
Describe what happened within your setting when the Scottish Government directive was made in December 2020 not to reopen
When the First Minister made the announcement that schools and nurseries would not be going back as planned after the holidays and remote learning was to take place, I looked out my home learning resources. I was on annual leave but used the time to draft our correspondence and make sure that was sent to parents and carers to keep them informed. I had to work out how I was going to arrange the nursery bubbles and as we were put into Level 3 that meant certain staff would not be able to work on the floor with the children. As numbers of children who would be using the facility would be low, I made the decision to have two "bubbles" with the same staff and children to minimise the risks.
How are you operating?
My team work on a rota, with staff on the floor, staff working from home, staff doing training and it alternates so it's fair for everyone. My key workers phone their families once a week and email an activity. My other practitioners are videoing stories, activities etc for our Facebook pages. I post activities and stories on both Facebook pages three times a week. That is on top of the activities the key worker provides. I also spend time with the children. Everyone's days are very busy.
What are the challenges you face as professionals and for families?
My main challenge is keeping up with the guidance and ensuring the workplace is as safe as it can be for children and staff. I have an amazing team who really look out for each other and are willing to work flexibly depending on what is currently going on. It's challenging for my practitioners who have young children, and that's tricky to ensure I have the right balance for everyone for working in the setting or at home. Children are an absolute tonic, with most being very matter of fact when dealing with change, however, there are a few who are finding it difficult as their routines have changed.
Have you introduced any innovative practice?
The COVID-19 pandemic restrictions have really made me reflect on practice. We were a free flow nursery with all children in one large space and staff designated to a particular space for two weeks at a time. We have now had to create bubbles and, I maintain, it is working amazingly well. Smaller groups, smaller spaces with the same staff in their bubble with all the areas, for example, art area, home corner, block area etc all in the one bubble rather than one home corner for all children to share. This is something I am going to think about when we are back to "normal".
Do you feel you are managing to connect and engage with the young children?
Absolutely! In some cases, we have had more connection with the children and families during the COVID-19 restrictions than we would have in normal circumstances. The parents and children really like their weekly phone call and love our Facebook stories and activities. We also provide resources to families who require them or are not able to engage using social media. The most important thing we can give a child is time.
What would be your advice to parents?
Be kind to yourself! The most important thing is health and wellbeing! This could be the most amazing time for your peedie folk. Young children learn by doing, by real life experiences, just talk to your children, bake, go for a walk, talk about the weather, have time lying on the couch reading stories, match the socks after doing the laundry etc. Embrace this time to teach your children lifelong skills!  We can't change what is happening nor can we control it, take each day as it comes!  Think how lucky we are to live in Orkney!
Do children continue to show resilience?
Our children never cease to amaze me every day. They take change in their stride for the most part.
---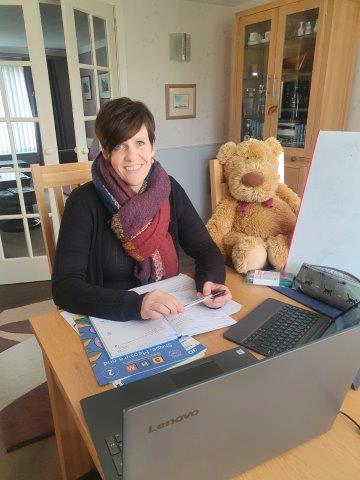 Name:  Mharee Rendall
When did you qualify and what was your first job? 
I completed my teacher training at Glasgow University and qualified in 2006. My probationary year was at Glaitness School and my first permanent post was also there, teaching children with additional support needs. 
What is your title now? 
I am a Primary 2 Class Teacher in St Andrews School. 
How do you set about planning when a new Scottish Government directive is made?
Once we had adjusted our mindset to having to teach children remotely rather than in the classroom, we started by thinking about what was going to be manageable and achievable for both the children and the parents, as we are very aware of how challenging this is for everyone. When we returned to school in January, the staff team at St Andrews School spent three days working together to plan topics/themes that we would all focus on across the school, to try and make the home learning experience more manageable for parents. We hoped this would make it easier for parents who have more than one child at home as they can focus on one topic rather than having to manage several different topics at the same time.  All the staff put together a home learning pack for each child to try and alleviate the pressure for those parents who don't have access to a printer etc as part of our preparation for moving to home learning.  We also continue to plan together throughout the week to try and ensure we are sending parents similar activities to be done at home.
How are you currently working?
At the current time, I am in school working with the children of keyworkers two days per week, as well as having the additional challenge of planning and preparing online learning for the children who are at home. On the two days I am working in school, the preparation for online learning needs to be done before and after the school day begins and ends.  When I am not in school I send my class their activities for the day and then respond to the work which is sent back to me, and messages from parents, thus ensuring I keep in contact with both the children and parents in my class.  I feel it is very important to retain a relationship with both the children and parents, coupled with ensuring they continue to make progress in their learning, so giving this feedback is a critical part of the job.  There are, of course, still meetings and paperwork tasks that are ongoing  which need to be done too regardless of the current situation.
What are the challenges you all face?
One of the biggest challenges of online teaching is knowing what level to pitch the work you send home; a huge part of being a teacher is judging what you do next based on the children's responses and this is very difficult to gauge when they are learning at home.  This makes differentiating tasks for the children somewhat challenging.  It is also difficult to judge how much is manageable for parents to do on a daily basis as everyone has different time commitments etc, but I also want to ensure the children are progressing in their learning, so it is a tricky balance to achieve.  On the days I am in school with the children it is not possible to respond immediately to work being sent in from home.  When you are peedie you like a reply quickly, so this is something I find challenging as I want to keep the children motivated and enthusiastic about their learning. 
Have there been any innovative practice as a result of the challenges?
This is an unprecedented situation and we have all had to think outside the box when it comes to moving to online learning.  This has its challenges but despite my worries and concerns I have learned many new skills and hope I have risen to the challenge!  The use of technology obviously plays a huge part in the current situation and it is amazing what you can do with this when you start to think about it.  Much of my online teaching in the past has involved me recording myself delivering lessons, in the hope that this helps the children and their parents, understand what I am expecting of them.  I think this keeps things consistent for the children in terms of how they are used to being taught, and takes much of the responsibility away from parents in terms of how they should explain how to do something (I have had lots of feedback from parents to say that the strategies we use in school now are entirely different to how they were taught in school!).  Recording myself was something that I was nervous about when I started but it has become easier as the months have passed!  I have also been known to take Camembear (our quite large French teddy) out on walks and post photos online to the children as I feel it is important that learning is fun for them, while at the same time giving them a connection with the school given we use Camembear in class when learning French! 
Do you feel you are managing to connect and engage with children?
It is obviously not the same as having them in class with me but I do feel I am managing to connect with the children on a daily basis and hope the children and parents feel this too.  I have had positive feedback from parents to date which is encouraging for me in the circumstances.  I often record messages for the children and it is always lovely when they take the time to do the same in response and I get to hear their voices and / or see their faces … this just makes my day and helps maintain our relationship!
What would be your advice to parents?
Firstly I would like them to know that I would much rather have their child in school, and be able to teach them in person on a daily basis, as I feel there is a perception in the national press and social media at times that teachers  are happier not having the children in school.   This is simply not the case, but I do want to ensure they remain safe and healthy. I would want parents to know that I appreciate how difficult the situation is for everyone and would simply ask they do their best with helping their child learn at home.  I do not want them to feel on their own with this so it is also important they keep in touch with the teachers and let them know how things are going.  I firmly believe that working together in this situation will make the experience more valuable and much easier and productive for the children.  The response I have had from many parents has been reassuring in that many of them have actively engaged in home learning and, like myself, have gained new skills along the way and managed better than they initially thought they would be able to!
Do the children continue to show resilience?
When we returned to school in August, after being in lockdown since March, my colleagues and I were preparing for a significant period of readjustment for the children in coming back to school and returning to such a structured daily routine again.  However, as it happened, the majority of the children came back as they would normally after the holidays and settled right back into things as if lockdown had never happened.  We have been impressed by how the children in St Andrews School have dealt with the situation, which is encouraging, as building resilience in children is critical to their future development as an adult.
---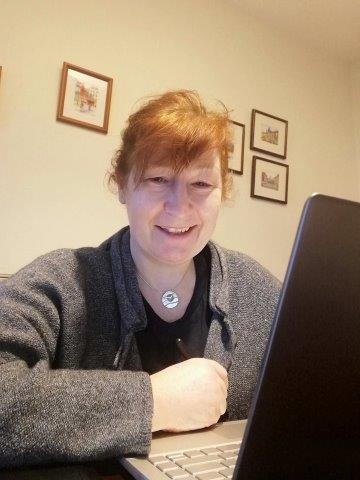 Name:  Mary Maley
When did you qualify and your first job? 
2000; Supply Teacher with Aberdeen and Aberdeenshire councils; my first permanent post is the one I am currently doing.
What do you teach, which school and year, class/es? 
Chemistry and Science, the Kirkwall Grammar School,  I'm teaching bits of every year group this session, other than S4.
How do you set about planning for face to face and remote learning?   
Currently, I set one piece of work a week for my junior classes to do on their own; we've continued to work on the topics we were doing before the schools shut.  I meet up with them as a class on Microsoft Teams once a week to see how they're getting on, answer any questions anyone has or even just give an opportunity for them to drop in and say hello.  The seniors are currently working through revision questions, which is what we always do when we've just finished a unit; I'm setting them questions twice a week and meeting up with them at least once a week too, to allow them to ask questions and get explanations.  Pupils are also free to email me.  If schools remain closed past the start of February, I will be doing as I did last time: a combination of teaching live online, e.g. annotating presentations, using class notebook in Teams, as well as setting work for pupils to do on their own.
I think remote learning should be used as an absolute last resort; the one thing covid has taught us, if there was ever any doubt, is that children learn better when there's a teacher in the same room.  I'm currently working at home, spending way too much time sitting in a room on my own in front of a computer screen - that is not what I had in mind when I came into teaching and I'm not finding it much fun, to be honest!
Preparing materials for on-line learning is much more time consuming than just preparing for a lesson in a classroom; you're obviously unable to help pupils immediately if they get stuck so I've spent a bit of time trying to make sure the work is accessible without a teacher e.g. adding hints to questions on worksheets.  Marking is also much more time consuming: instead of nipping round pupils to check their answers (quickly, with a face covering on and in a well-ventilated room, obviously); I have to open a file before I can read it, type in feedback, send it and repeat that up to 19 times/class.  The verbal feedback that I often give in class takes less than half the time.   
Last year when the schools were 'closed' my (then) 11-year-old called me a workaholic; he had never used that word to describe me before but we're back there again so I guess that might give you an indication as to how much work I'm doing.
What are the challenges you and your students tell you they face?  Time, or the lack of it, is my biggest challenge.  As well as my teaching post, I'm a union rep and have 2 KGS pupils of my own to help home school.  Ignoring notifications on Teams when I'm trying to focus on one task is another challenge as I am very easily distracted.
For pupils, the technology can be a challenge at times especially when a lot of users are on Microsoft Teams as it really slows things up.  Motivation seems to be an issue for the 2 KGS pupils in my house, one of whom is in one of my S3 classes; he told me that getting motivated is much more difficult at home than at school because there are a lot more distractions around.
Has there been any innovative practice?
Like many teachers, I became quite familiar with Microsoft Teams last year.  I had just started using it in February, thanks to my colleague David Fletcher who had managed to persuade me of the usefulness of that digital platform.  It was very helpful last time round and I continued to use it with exam classes when school re-opened, e.g. for sharing notes and setting homework.  Currently I'm setting work in editable files on Teams for my S1 and S2 pupils: this means they can type straight onto documents, which makes it easier for many to complete their work; it also makes it easier for me to open and mark as it's all saved (mostly) in the one place.  That's something I'll continue to make use of in the future.  
Do you feel you managing to connect and engage with pupils?  
Yes, but not to the same extent as being in class; I think the younger pupils in particular are a bit shy about speaking online.
What would be your advice to parents and pupils? 
To both pupils and parents: health and wellbeing comes first.  Remember that the whole country/world is in the same boat as us, we can all only do our best and should remember to ask for help if we need it.
Do pupils continue to show resilience? 
​Yes, they do but I bet most of them would say they're happier in school; I hope it's not too long until we're all back in.
---
When did you qualify and where was your first job?
I qualified in 2015 and my first job was at Balmedie Primary School Nursery, Aberdeenshire
What is your title?
Early Years Practitioner at St Andrews Primary School Nursery
How do you set about planning when something like the latest directive comes in?
It's important to have lots of communication and teamwork between staff and communicate with families as much as we can. Planning simple, meaningful activities and learning opportunities that can be carried out at home is important to ensure that they can be completed and enjoyed by all the children who choose to do them. 
How are you currently working?
In nursery two days a week. Working from home three days a week.
What are the challenges you all face?
Connecting with some families can be tricky, you want them to know you're there to help and support them whilst nursery is shut, but you don't want them to feel overwhelmed. Some families may not have a huge supply of resources to hand, so activities need to be simple to enable all families to take part. 
Have there been any innovative practice as a result - have you come up with some new ways of working that have proven to be a success?
Working with children and their families through Seesaw has been a great success. 
Do you feel you're managing to connect and engage with bairns still?
I think most families are still engaged but some are not as engaged as they were during the first lockdown. 
What would your advice be to parents?
Have fun. Don't stress. Play with your children and adventure outside. 
Do children continue to show resilience?
Most definitely! Throughout this, and the first lockdown, children have shown a huge amount of resilience and adaptability. It's inspiring, they just go with the flow and show how tough they are.