20 January 2021
Orkney teachers use innovative ways to engage in remote learning
Teachers and support staff in Orkney have joined pupils in a lockdown learning exercise  - using innovative ways to engage in live lessons online.
Kirkwall Grammar School Head Teacher Don Hawkins said: "Staff at KGS learned a lot from lockdown 2020.  We felt our first priority was to ensure all pupils were able to access the online learning platform should we go into lockdown again, a situation we now find ourselves in.
"When school resumed for most pupils in August, we made a collective decision that the majority of learning and teaching would take place using Microsoft Teams as this had been the most successful platform during lockdown 2020.  Teachers and support staff continued to use Teams with their classes and young people even after returning to classes in August." 
As a result of a Connecting Scotland award, KGS has been able to support learners and their families at home with access to IT by issuing a large number of new iPads or Chromebooks as well as 4G data packages where connectivity is a problem. 
A major focus in August was ensuring the "digital literacy" of the new S1 entry, while giving S2s a refresher course. Parents and carers could also access a Digital Literacy Support Guide from the KGS website giving details on how they can best support learners at home.  It includes step by step instructions and 'how to' videos for accessing and using Glow, Teams, email, Class Notebook, One Drive and Office 365.
Joanna Warwick, Acting principal Teacher of Social Subjects, said: "We have found that S1 pupils have been particularly keen to engage and access resources.  I think the digital literacy sessions really helped.   
"Our senior phase classes are engaging with courses through PowerPoints and resources uploaded to Teams.  Most classes have been offered or have scheduled live check ins with the teacher to ensure engagement."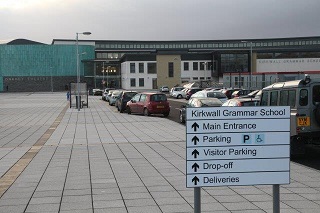 Denis Soames, from the KGS Business Studies and Enterprise faculty added: "In website design and development we have taken our learning to the next step, in particular and in an innovative way by using web servers of differing types.  For example, in Advanced Higher I pre-emptively issued pupils with a Raspberry Pi to take home and through remote learning I taught them how to configure it as a server.  The pupils then build their own webserver with a multiple layer stack of software and all this before they developed their websites.  Our S3 pupils used a free service to create their webserver.  As a result, the pupils were able to learn about domains, IP address, and were able to use localhost and FTP to configure their own domain and hosting server."
He goes on to say: "None of this would have been necessary had we been in school, it has widened the curriculum significantly but most importantly it has provided them with real Developing Young Workforce experience that could be taken into the workplace or enable them to become an independent developer in the future."
Dominik Eschborn in the English faculty has used Live stream lessons on Teams as well as YouTube.  Lessons and recordings can be uploaded and his pupils are able to submit work in OneNote or Word.  He is able to publish any results online and his pupils all have IDs to check them and monitor their progress.
The faculty are monitoring engagement weekly and emailing pupils who have not engaged to check that all is well.  Rory Robinson, the Acting Principal Teacher, said: "I'm holding a weekly session with my Higher and National 5 Media class.  We are developing the use of interactive lessons and using break out rooms on Teams. Pupils are keen to listen, not so keen to talk!" 
Marion Murray, KGS Curriculum Support, said: "Technology is certainly coming into its own.  Like any teaching and learning process, some pupils will launch straight in and others are more gradual and tentative."  Ms Murray is keen to ensure her pupils are connecting and know that their learning continues to give a real sense of stability.  "Children and young people remain at the centre of our learning provision."  
Magnus Garson in PE said that engagement has started well especially with certificate pupils who are submitting their work early.  The department have also set the pupils the challenge to walk, cycle, run, swim, even bobsleigh, as much of Orkney as possible -  an invitation that was also extended to all staff!
The KGS Design and Technology Department are utilising lots of different resources and methods to engage with pupils.  Communication is mostly through Teams but they are also emailing pupils directly.  S1 and S2 pupils are being set STEM challenges from the Smallpiece Trust, which are linked to videos available on YouTube to give support.  There are obvious difficulties in delivering the practical work but all pupils are being provided with theory tasks to keep them going and engaged, for example cloud based software (Onshape 3D modelling platform) and home accessible software.   
The Maths Department is providing a mixture of online and live teaching. Roz McMahon has been using a combination of live voice and a writing tablet for lessons.  She is able to write straight into the Teams Class Notebook using the Onenote app which is a great benefit.  She has also been coaching colleagues in the Maths department on voice and tablet teaching.  In an innovative move, Ms McMahon has asked pupils who are exercising with someone in their bubble, to calculate the height of buildings around Orkney using the phone camera, a ruler and someone whose height they know.  Pupils have been asked to submit photographs and calculations of their work. 
Our Business Studies faculty have reported a very positive engagement with their Higher classes at 90%.
The KGS Art and Design Department said that nearly all National 5 and Higher pupils have collected their still life objects, materials, and design folios and now have enough work to keep them engaged until April.  We have also delivered material to pupils in North Ronaldsay, Egilsay, Shapinsay and Sanday.   
The Music Department at the school is ensuring pupils in the senior phase continue to focus on their SQA work.  The department are concentrating on two broad themes – Musical Literacy and Listening skills, which together will make up 30-40% of SQA awards depending on their course.  Pupils have been reminded of the exact SQA requirements on their Teams and can mostly practice their instrument(s) at home. The pupils can also access demonstrations and accompaniments, record themselves and send in their work to the staff via Teams.  The Instrumental staff have all been active posting music to be practiced together with demonstration videos.  Some have invited their pupils to individual or group lessons via Teams which is maintaining face-to-face contact.  
The young people who are coming into the Curriculum Support Department are enjoying the routine of school, albeit for shorter sessions.  Learning is continuing online too.  Some young people find that online learning suits their learning style and are engaging positively. 
Charles Jacobsen S5 said that while the work is easy to access  it's harder to do as getting help or support takes time.  James Daintith in S5 said he has enjoyed working online as he learned a lot from the last time.  This is echoed by Olivia Brown in S1 who said she found the online learning a lot easier this time round.   
Head Teacher Don Hawkins concluded: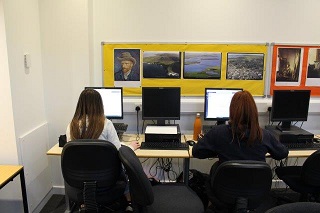 "There are many learning resources available online and colleagues across the county are working collaboratively to ensure no one is left behind.  Local examples are the STEM network set up by Colin Nisbet and the staff training in the use of Microsoft Teams offered to staff across the county by Stromness Academy teacher Rachel Moar, which supports teachers to maximise the potential of the online platform."
"In the midst of a global pandemic, it seems so important to remain calm, connected and hopeful.  The four capacities of: successful learners, confident individuals, responsible citizens and effective contributors are still developing as new experiences are dealt with in our present situation. However, and I cannot stress this enough, it's important that all pupils, especially those in the senior phase continue to engage and provide their teachers with the work requested to ensure there is enough evidence which can be put towards their final grade."
Stromness Academy teachers have also been building on the skills they learned in the first lockdown to enhance pupils' remote learning experience this time around.
The school had already been developing a strategy for digital learning in class and homework, and so they really embraced the opportunity to develop their own and pupils' new IT skills in the first lockdown.
Several teachers have developed their skills to the extent that they gained Microsoft Innovative Educator (MIE) status, and that investment of time is paying off now.  On the return to school, staff continued to use Microsoft Teams with their classes, and teachers and pupils continued training in using the online platform. The tools available to us have developed too, with live video conferencing with pupils now possible in Teams. Many subjects are delivering lessons live online, though they remain mindful of the difficulties some of their pupils have accessing this, so there is plenty of learning by other methods too.
Rachel Moar - Chemistry and Maths Teacher and MIE - not only runs training courses for teachers, she also applies those lessons in her own teaching. Rachel recently taught a live online Maths lesson for all Stromness Academy S1 classes at once, with all the other Maths teachers also online to support and answer questions. This collaborative work allowed all the teachers to develop their understanding of techniques for online teaching together.
Stromness Academy Music Teachers Russell Brown and Kate Fletcher are also working collaboratively, delivering live classes for their pupils multiple times a week. The staff team teach every lesson with one teacher leading and another answering or relaying pupils' virtual questions. Only the teacher is seen or heard on screen, so they can record the lesson and put it online for pupils to refer to when completing homework and for anyone who was unable to attend. So far there has been 90% engagement by pupils with the live lessons. Mr Brown commented that this method of teaching has educational benefits, as short demonstration lessons followed by pupil research help embed learning.
Practical subjects can be a challenge to deliver remotely – teachers have sent equipment such as musical instruments and art materials home, but obviously this can't be done for science. Marianne Costello, PT Chemistry and another MIE, has been filming herself doing experiments so that pupils still get the practical input. She puts her lesson videos on a YouTube channel, which mean that pupils can access them at any time – this is important for families where internet connection can be unreliable or pupils are sharing laptops and can't guarantee to be online at a specific time for a live lesson.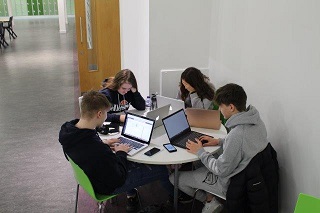 Not all work is completed online, giving pupils a break from the screen. PT Art Brenda Johnstone wanted S1 pupils to develop their skills in portraying light and shade. After looking at some online demonstrations of drawing clothes, pupils were set the task of knotting a piece of fabric and making a pencil drawing. They then took a photo to send back to their teacher for feedback. Being able to spend a concentrated piece of time on an off-line task like this is beneficial for pupils' mental wellbeing, as is the positive feedback they'll be getting for the fantastic work shown in the photos.
Support for Learning staff have also found ways to help pupils with their work even though they can't be with them. They book one-to-one online sessions with pupils, who are able to "share their screen" with the teacher and show them the work they are doing. This is really valuable for pupils who may find it difficult to follow written instructions; staff can help them be sure they are finding the tasks they need to do and are completing them in the right way and sending them back to their teachers.
SA Head Teacher Jane Partridge commented that overall, she has been really pleased with the level of engagement of pupils with the work.
"Pupils gained so many skills from the experience of the first lockdown and the majority are now working really well independently, looking for solutions if they do hit a snag and communicating appropriately with their teachers and other pupils if they can't solve it themselves. Guidance Teachers are following up on the minority who are not engaging with the work and we are doing all we can to help them overcome barriers to engagement such as lack of technology, connectivity, needing support with work and personal issues.
"We would strongly encourage any pupils or parents who are hitting these issues to get in touch with the school for support. We are going to be working remotely for some time yet and we want all our pupils to be able to participate, not just because we care about their education, but more importantly because we know how crucial it is to wellbeing to have a purpose and structure to your day and connection with other people, even if that connection is online."
Jane can see positives in the situation: "It's not how we would have chosen to be working, but it is giving many pupils a new set of skills which will be of immense value in life and work."