Despair as the digital divide grows
20 January 2021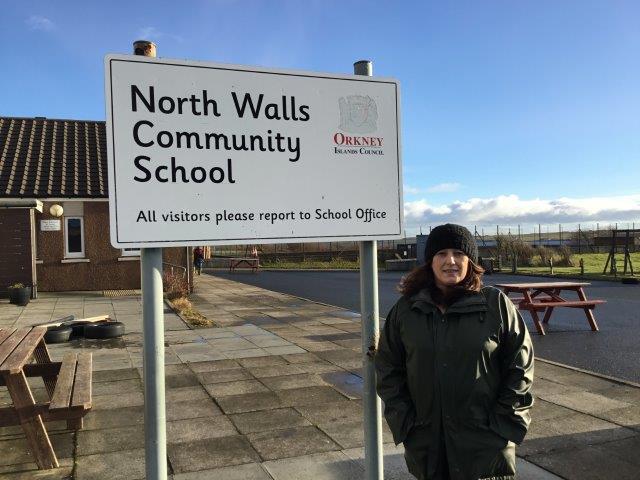 Parents in Orkney have spoken of the daily challenges of remote learning – and called on the Scottish Government to prioritise areas with the poorest coverage and deliver on their promise of superfast broadband for all.
Claire Thomson says her children continue to be disadvantaged due to poor broadband coverage – exacerbated by last year's lockdown and the latest learning at home.
The pandemic, she believes, has exposed the extent to which rural and island communities still lag behind in terms of good broadband coverage.
Claire, who lives on Hoy with her young family, says that for as long as this inequity and unfairness in connectivity continues, it will have a negative impact on the educational achievements of young people – and their onward life choices.
Claire has two secondary aged sons attempting to continue remote learning with very poor connectivity at their home. She also has a primary aged son.
In fact, to allow any kind of online learning she purchases additional 4G mobile data.
The Scottish Government has provided additional funding to support families facing connectivity issues – anyone in this position should contact the education service to see what the available options are.
Claire continued: "We have an issue all the time, but it really has been problematic now with my two eldest sons trying to continue to learn at home. We can afford the additional payments but not all parents can – so what are their choices – they simply miss out even further and the divide widens?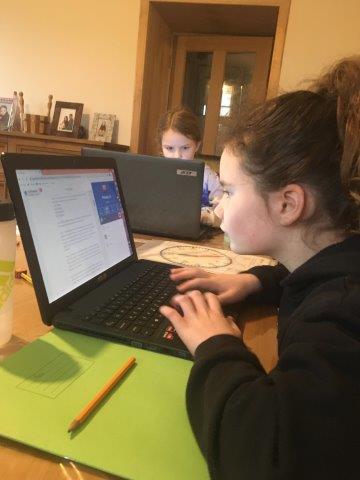 "The first lockdown really highlighted the problem and so I purchased a different network provider sim card and purchase data to add to that and turned my phone into a hotspot to allow my sons to continue to be able to do a level of remote learning and have some accessibility."
There are only certain areas in their home where the 4G will work and it means Claire must switch sims in her phone to allow her sons to have access.
"We are being penalised because of where we live - we are only asking for a level playing field and to receive the same service that many others receive. We pay for this after all. The system is broken and needs to be fixed as the gaps will simply get bigger and our children will become more disadvantaged.
Our Community Council have raised this for years now and been in contact with providers and the Scottish Government, but it is falling on deaf ears – no one is paying attention." 
She said the pressure being put on young people at present is unacceptable and fears for the mental health of some.
"Young people often put high expectations on themselves and the additional stress at the moment, particularly when they may fear they are falling behind due to being unable to get the access online when they need to, is unacceptable.
As parents we want to encourage and support our children reach their academic potential and not fall behind due to circumstances outwith their control.
"The Scottish Government must follow through on the earlier pledge they have made regarding superfast broadband for all - and areas with the poorest coverage such as ours need to be prioritised."
The Scottish Government and the Telecom giants need to act fast to close the digital divide now, which is getting bigger the longer they leave it especially in the islands and rural areas. All we are asking for is a reliable and consistent Internet connection to allow our children and young people to access online learning – it's not rocket science!"
Head Teacher at North Walls Community School, Shirley Stuart said: "The current connection we have in our community is not fit for purpose and we have to deal with this on a daily basis, which has been exacerbated by the ongoing situation."
"Poor broadband is impacting on daily home-schooling"
Anna and Davie Rendall live in Toab with their two primary school age daughters Ava and Leonie. Due to illness, Anna is a stay at home parent and currently home-schooling as a result of the Covid-19 restrictions, while Davie works at sea in Shetland on a four week on/off rota.
Anna says the slow broadband and poor Internet connection is without question having an impact on their daily schooling – leading to frustration, an inability to complete certain tasks, and sometimes very long days in an attempt to get the work done.
Anna said: "It is a worry that they will appear not to be doing as well as they were at school, or even worse - fall behind if everything isn't done as expected. Everything takes so long, that we hardly have time to get outside before teatime when the weather is decent.
"The Scottish Government put millions into improvements last year in the R100 scheme and the local island authorities were included.  I'm not sure what they have actually done here as they are behind schedule.  It will make no difference to us unless they actually put a new cable here anyway."
Anna described a typical day of home-schooling with poor broadband.
"I use two Laptops and my iPhone. Everything is set out in a fairly straightforward manner with a mixture of online structured tasks set through Seesaw - a school app. We have to use various websites and worksheets (from the school) in conjunction with Seesaw. Downloading the required material and uploading the girls completed work via iPhone is essential in this.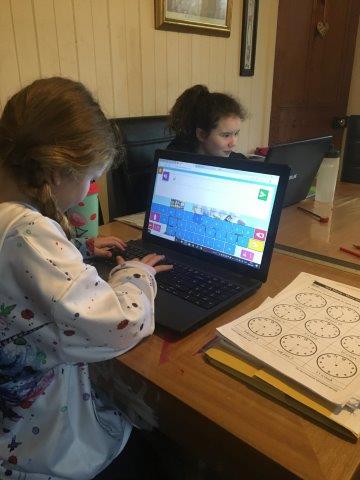 "In a typical day we only start at 10am. I look at what tasks both girls have been set for the day (or weekly challenge) and I write it down so I can keep an eye on the schedule and tick off what we have done.  We break for lunch for 45 minutes or so and often work until 4/5pm. Anything that isn't done just doesn't get done. I tend to write things out for them to complete in their jotters! Sometimes it's difficult to get things uploaded to the school or sometimes the device just has a tantrum and tells me there's an error, as there's no internet! I sometimes have to get the girls to come off whatever they are on so the other one can upload their work. Ridiculous. Some days it works okay, it's like Jekyll and Hyde."
Their current provider is Plusnet, however, they are investigating the possibility switching to see if it improves their situation – however, Anna feels that is unlikely.
"The line is estimated to be at least 35 years old. It's really not for purpose, after a lot of rain it is even slower! My parents are down the road and are on the same line. They sometimes will have no internet for days on end.  As my husband has to self-isolate when he returns home from Shetland - it means that we will move to Mum and Dads for two weeks. I really don't know how we will get on there if we can't work online for a few days on end!"
Anna continued: "We received a letter from BT in September saying that they would put £3,000 or so towards laying a new line.  As per the letter, I got in touch with them for a quote. The lady on the phone was embarrassed to tell me 'in excess of £100,000' or that we could split the costs with neighbours and it would cost around £8,000 each.  So, does a family living in Edinburgh/Glasgow or other cities have to pay for a new line to be installed? I think not. We pay the same rates as everybody else across the country for substandard service.  It's rural broadband deprivation. It feels like we are not worthy of the investment. It really annoys me that fibre optic is being rolled out, yet our speed is not that much better than dial up.  My husband invested in boosters to help with signal around the house, but it doesn't help with the speed.
"We do as much as we can online, but I am not prepared to stand and wait for things that will not load. It is a struggle to make videos for the school as it takes so long to get them uploaded. During the last lockdown we tried to do everything, but it meant the poor girls having really long school days.  It's not fair on them, so if it's not done, it's not done. Whilst I can manage here and miss a few things out, I am not sure how we will keep up down the road at my folks. I will have to get in touch with the school and maybe get paper versions if we can, but a lot of it is online. The school was very supportive throughout lockdown last time and will try and help us I'm sure."
She said her daughters are very aware of the situation. Leonie said: "The internet being slow is very, very annoying as I can't get on with my work and I can't see it sometimes."
Ava added: "When we are playing Sumdog, (a school Maths game) we log onto it and it say's 'cannot connect, please try again later' it's very annoying and it never does that at school."