Winter Safety
Extreme weather can occur at any time of year, but is most likely during the winter months. 
Taking a few simple steps now to prepare for winter can make all the difference when severe weather strikes. Follow the links below for more about getting ready for winter at home, before a journey, at work and in our communities - and visit the ready.scot website for more advice.
On the move | In the home | In the community | At work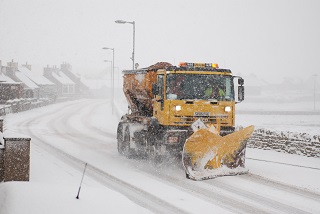 You can also: 
Read our Guide to Winter Roads for advice from our Roads team on winter driving in Orkney.
Check our Winter Service Plan to see what roads near you are in our gritting plan, and the location of self-help grit bins.
The smart way to get ready for winter
In winter, our computers, tablets and smart phones can help us prepare and cope during severe weather conditions.
Gales, lightning and snow can all strike quickly, and bring with them the potential for disruption at home and at work, and for our communities and everyday lives.
With a few simple steps it easy to prepare for the winter ahead – and find the latest updates and advice when severe weather hits.
In the 'Related Sites' section of this page you will find a wide range of useful links for:
The OIC School Transport Facebook page.
The Council's @OIC_Roads Twitter feed, where updates are posted if the Churchill Barriers are affected by the prevailing weather and tidal conditions.
Met Office forecast and weather warnings.
Flood alerts and warnings from the Scottish Environment Protection Agency (SEPA).
Local transport providers.
The 105powercut website where you can report a powercut and check for updates
The PowerTrack app from Scottish and Southern Energy Power Distribution (SSEPD). This provides updates on power cuts via Apple and Android smartphones and tablets.
Links to register for Priority services with SSEN (Scottish and Southern Electricity Networks, the trading name of Scottish and Southern Energy Power Distribution Limited.) The Priority Services Register is for SSEN customers who need extra help and support during a power cut. Those eligible include people who are dependent on electricity for home medical care, or have a chronic illness or short term medical condition; People with a disability or special communication needs; People with a young baby; and people who receive a state pension.
Links to register for Priority services with Scottish Water, for people with medical needs or disabilities.
How to use your smart phone to text and make calls when you don't have a mobile phone signal – by using Wi-Fi instead. Find out if your network enables you to do this by following the links provided.
On the move
Orkney Islands Council treats public roads and footpaths in wintry weather according to a carefully compiled Winter Service Plan. Treatment is prioritised in order to keep as many vital routes as clear as possible during severe weather spells. We like to say grit is not magic fairy dust - drivers should be aware gritted roads can still be slippy, and that routes are not treated before 6am or after 6pm unless it's requested by emergency services partners. You can find out more by visiting the 'Guide to Winter Roads in Orkney' link available from the 'Related Links' section of this page.
Being prepared for severe weather  is something we all need to do – it takes only a few simple steps and is important if you're on the move/road.
In severe weather conditions, your journey could take longer than expected and before travelling in bad weather, you should:
Check the weather forecast and road conditions.
Consider whether you need to travel right now or if you can wait until the weather improves.
Consider alternative routes.
Consider alternative modes of transport.
Allow extra time for your journey.
Make sure your car is ready for a journey in poor weather.
Make sure your mobile phone is fully charged.
Tell someone your destination and when you expect to arrive.
Consider fitting winter tyres to your vehicle.
Be prepared for severe weather by packing a few essential items to take with you. Your emergency kit for your car could include an ice scraper and de-icer, a shovel for snow, a torch and spare batteries, warm clothes, boots and a blanket, some food and a warm drink in a flask, a first aid kit and battery jump leads.
On public transport dress for the season/forecast, have a means of contacting your family and for a long journey, carry a small snack and some water if possible.
In the home
Getting prepared for severe weather is easy. Just make a household plan and collect together the items that will be essential to you and your family in an emergency.
Be prepared for severe weather by making your home more energy efficient, keeping dry (protecting pipes and knowing how to turn off the water supply if you need to) and staying connected (keep a battery operated radio and a list of emergency contact numbers to hand). For more information on protecting your pipes visit the Scottish Water Heat, Insulate and Protect Your Pipes web page available from the 'Related Sites' section of this page.
Get prepared at home by creating an emergency kit that contains what you need.  Here are some things to include in your emergency kit: emergency contact numbers, a battery operated torch and spare batteries (or a wind up torch), a battery operated radio and spare batteries (or a wind up radio), any essential medication, some toiletries and a first aid kit, three days' supply of bottled water and ready to eat food (that won't go off), copies of important documents like insurance policies and birth certificates, in case you need to locate these quickly or prove your identity, pencil, paper, a penknife and a whistle, spare keys to your home and car, spare glasses or contact lenses.
Think about what else is important for you and your family to get by during an emergency e.g. pet supplies, food supplies, formula/baby food.
In icy weather, there are steps you can take to keep the paths near your home safe for you and your neighbours. The tips below for clearing ice and snow outside your property reflect guidelines being developed nationally by Transport Scotland and the Convention of Scottish Local Authorities (COSLA) and are based on some frequently asked questions:
There is no law preventing you from clearing snow and ice from paths or pavement outside your house, shop or office. Doing your part may help the local community and will be very helpful to the more vulnerable members of society. In severe weather Council employees may be very busy clearing other areas and priority and lifeline routes.
Some people may be unable to clear their paths. Being a good neighbour and clearing their paths for them is the kind of practical step that most of us can take during cold weather.
Practical tips for clearing paths and pavements:
Do not use hot water. This may melt the snow and ice initially but will refreeze quickly to a form a very slippery surface.
Wear suitable warm clothing and footwear with good grip - use ice grippers on your footwear if you own a set.
If shovelling snow, think about where you are going to put it, so that it does not block other people's paths or the road. Make sure it will not cause problems when it melts. Piling snow over gullies or drains may stop melting snow from draining away.
Traffic will find it difficult to stop quickly in icy conditions, so make yourself visible if working near a road and do not take unnecessary risks in the road.
Make sure you take rest breaks
It's much easier to clear fresh snow than hard packed - start as early as possible.
Clear a small path down the middle of the area to be cleared first, so you have a safe surface to walk on.
Spread some salt on the area you have cleared to prevent ice forming. Remember salt can be washed away and you may need to repeat salt spreading. Ordinary domestic table salt or dishwasher salt will work – bulk bags of salt can be purchased locally. There are several grit bins located throughout Orkney for self help. A full list of these can be found in the Council's Winter Service Plan. If you notice a grit bin is low in salt, please advise the Council by calling Customer Services on (01856) 873535.
If there is no salt available, then a little sand or ash can be used to provide grip.
Particular care and attention should be given to steps and steep slopes - additional salt could be used in these areas to reduce the risk of slipping.
Take care, use common sense and don't do anything which would be likely to cause harm to others.
Power cut? Call 105.
105 is a new number that you can call to report or get information about a power cut. It's a free service for people in England, Scotland and Wales. You can call 105 no matter who you choose to buy your electricity from, and you can call 105 from most landlines and mobile phones.
105 is one of the ways that you can contact your electricity network operator. Your network operator can also be contacted directly by phone or via their website – most network operators can be contacted through social media too. (Network operators aren't the same as energy suppliers. Network operators manage power lines and substations, and energy suppliers sell the electricity that runs through the power lines. To find out who your network operator is, visit powercut105.com  )
You can also call 105 if you spot damage to electricity power lines and substations that could put you, or someone else, in danger. If there is a serious immediate risk to someone, you should call the emergency services too.
In the community
In previous years severe weather left some people vulnerable – being prepared for severe weather is something we all need to do, it only takes a few simple steps.  A little planning now could save a lot of trouble later.
Try to identify family or neighbours who may need an extra helping hand if severe weather strikes and have their phone numbers to hand.  Offer to help with grocery shopping or other essential tasks.  Clear ice or snow from your and their pathway - remember, ice can make things just as difficult as deep snow for some people to move about.
Your community can get prepared for severe weather by agreeing what you, your neighbours and your colleagues can do on your own and collectively to minimise the effects of severe weather where you live and work.
At work
Whether you're self-employed, manage a small team or run a large business, checking now that you're ready for all kinds of severe weather can save a lot of trouble when it arrives. Severe weather affects us all in different ways –  take time to think about how it might affect your business and get ready in ways that are cost effective and suit your circumstances. Being prepared for all kinds of severe weather; and looking after your staff and customers will help maintain cash-flow and help build a reputation for reliability.
Be prepared for severe weather by ensuring that you have appropriate insurance cover for all aspects of your business.  Encourage your staff to talk about how severe weather may affect your business and share ideas on how best to avoid disruption.
Some staff may be unable to get to work – make sure you know how you would operate in their absence and consider remote flexible working.  Plan ahead and talk to your staff about what 'essential travel' means for them and your business.
Things to consider
Think ahead and plan how you would operate if you couldn't access or use part of your premises, or how you would evacuate staff or stock.
Put contingency plans in place for how you would manage if there was a power, phone or other utility failure.
Getting ready for severe weather is a good opportunity to check that you are not taking unnecessary risks elsewhere in your business, such as equipment failure or IT.
Put plans in place and make the most of social media and other communication channels during periods of severe weather to maintain regular contact with customers, suppliers and staff to help overcome problems.
Do you have alternative arrangements in case your suppliers suffer a disruption to their business?
Tough economic times bring added business risks, so it's even more important to ensure you take appropriate steps now to avoid disruption later when severe weather strikes.
OIC Updates - alerts from Orkney Islands Council
OIC uses various ways inform the public about service disruptions such as school and barrier closures in severe weather. Social media plays a big role in keeping the Orkney public updated. For example, updates on conditions at the Churchill Barriers are posted on the Council's OIC_Roads Twitter feed. There is also a dedicated OIC School Transport Facebook page. For more information on these visit the 'OIC Updates' section of the website available from the 'Related Links' section of this page.