Multi-Member Wards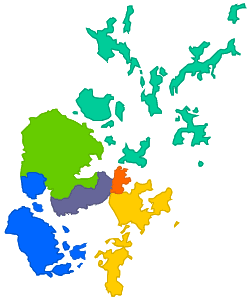 Colour Co-ordination Key
 East Mainland, South Ronaldsay and Burray
 Kirkwall East
 Kirkwall West and Orphir

 North Isles
 Stromness and South Isles
 West Mainland
Multi-Member Ward Maps
Kirkwall residents will note that the Town has been split into two wards - Kirkwall East and Kirkwall West and Orphir. If you're not sure which ward your address comes under, view the Kirkwall Wards Street List available from the 'Related Downloads' section of this page.
Tip: The new ward map PDF files are quite large so saving the files on to your computer and then viewing with Adobe Acrobat Viewer will usually work better than trying to view the maps directly in your web browser.
The Orkney ward maps are provided by the Local Government Boundary Commission for Scotland.