Rachael King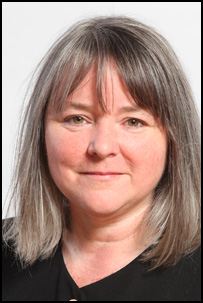 Ward: West Mainland.
Address: Brodgar, Stenness, Stromness, KW16 3JZ.
Telephone: 01856761428 or by mobile on 07885201976.
Email: Rachael King
How Best To Contact Me
You are most likely to reach me on my council mobile number above. If I cannot take your call, please leave me a message and I will phone you back as soon as possible.
Personal Profile
I am a member of the Orkney Manifesto Group along with my colleague Councillor John Richards. We published a refreshed manifesto prior to the May 2017 local government election. This can be viewed online on the Orkney Manifesto Group website available from the 'Related Sites' section of this page.
The majority of my adult life has been in Orkney. I am married to Nick Card who works for the Orkney Research Centre for Archaeology (ORCA) and directs the Ness of Brodgar archaeological dig. We have two daughters, Megan and Beth, both born at the Balfour Hospital. As an Art Psychotherapist, I have worked alongside people with different backgrounds and experiences; from children with autism, young people with substance misuse challenges, the deaf community and blind community, in-patient acute psychiatry, adults with learning difficulties, people with dementia and finally specialising in adult mental health and wellbeing in NHS Psychotherapy and private practice. For the past 10 years I have been involved in the politics of both my profession as Chair of my national UK body and that of the wider Allied Health Professions as Convenor of the Allied Health Professions Federation Scotland. But first and foremost I am a mother, the West Mainland is where I live and Orkney is my home. I will work to the best of my abilities to ensure that my family, my community and the islands as a whole are given the greatest opportunities to thrive.
Committee Membership
Details of committee membership are available from the 'Related Links' section of this page.
Outside Interests
I enjoy meeting, listening to, learning from and working collaboratively with people from all walks of life. I feel fortunate that my professional life has allowed me to do just that and in turn acts as a constant reminder of the important things in life - the role of councillor feels like a natural extension where I can put to good use the skills and knowledge I have gained. I sit on the Stenness Community School and Stromness Academy Parent Councils and the board of trustees for the Friends of Happy Valley. When I have time, I enjoy art making, pottering around the UK's best charity shops in Kirkwall and Stromness, making my children laugh, philosophical debates on everything and anything, and on a good day, hunting for groatie buckies at the Brough of Birsay or on Evie Sands.
Find me
During the week you are most likely to find me either at the council building, around the community or travelling between the two. At weekends, you will find me either at home, in a charity shop or on a beach in the West Mainland.
Privacy Notice
Councillors represent residents as part of their work in the community. A Privacy Notice is available from the 'Related Downloads' section of this page. This provides information about the type of personal information Councillors might collect in carrying out their work, how it is collected, how it is used and how it is stored.