Kevin Woodbridge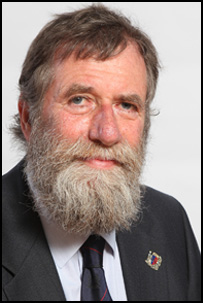 Ward: North Isles.
Address: Lurand, North Ronaldsay, KW17 2BE.
Telephone: 01857633333.
Mobile: 07867195038.
Facebook: @councillorkevinwoodbridge.
Email: Kevin Woodbridge.
How Best To Contact Me
Email is by far my preferred medium to respond to issues/queries, but happy to work via Messenger, text, snail mail etc., and phone if urgent.
Personal Profile
I studied Medicine in Manchester and worked in University Hospital units there post graduation for several years. My other great interest in natural history (particularly ornithology) drew me in to looking for a rural environment to live and work in so I changed career path to general practice, training in the Island of Lewis. Having seen my ideal job being advertised on North Ronaldsay, I was delighted to take over the practice in 1977.
Here I developed the North Ronaldsay Bird Observatory which has become a vigorous centre for visitors and scientific recording. It also now provides a bar, restaurant and shop for the island, and runs a traditionally managed flock of native seaweed eating sheep.
I resigned my post as island GP in 2010 to lead the acute medical service at the Balfour Hospital whilst supporting my children through Kirkwall Grammar school. I retired completely from medical practice in 2014 aged 66, being an all or nothing sort of person. I am now dedicated to doing my best as a councillor for the North Isles.
I am married to Alison with two children, Heather and Gavin.
Committee Membership
Details of committee membership are available from the 'Related Links' section of this page.
Outside Interests
I enjoy playing guitar, reading and supporting Manchester City F.C. Travelling to explore new environments and cultures has always been a huge attraction for me, I have travelled worldwide and we have acquired a VW campervan as my 'retirement' present. The observatory pioneered microgeneration with wind turbines in the late 1980's and renewable energy continues to hold a major interest for me.
Find Me
Working on the croft at home in North Ronaldsay, passing through Kirkwall airport or travelling on the ferries round the isles. Do come and say Hi!