John Richards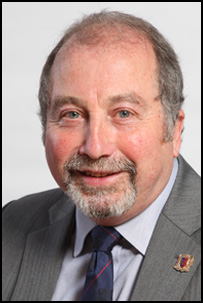 Ward: Kirkwall West and Orphir.
Address: 8 Main Street, Kirkwall KW15 1BU.
Home Telephone: 01856872028.
Mobile (Council BlackBerry): 07718100236.
E-mail: John Richards
How Best to Contact Me
You can contact me by e-mail, or any of the above methods - if I'm not available then please leave a message and I'll get back to you.
Personal Profile
I am married to Eileen and we have three sons and two grandsons, Zak and Archie, both of whom live here in Orkney. Archie has the distinction of being the first child to be born in Orkney in 2017 and we are very proud of both of them. A third grandson is expected in early October 2017.
I retired as a Chief Official with Orkney Islands Council at the end of 2011 but was elected for the Kirkwall West and Orphir as a Councillor in May 2012. I was, and remain, a member of the Orkney Manifesto Group and our vision can be found on the Orkney Communities Website.
I retain professional membership of the Chartered Institute of Housing and the Chartered Institute of Management and served as Chair of Orkney Licensing Board and Orkney Licensing Sub-Committee during my first term as Councillor.
I was fortunate and privileged to be elected to serve for a second term as Councillor for the Kirkwall West and Orphir Ward in May 2017 and currently chair the Council's Monitoring and Audit Committee.
I enjoy public service and trust I will prove to be a worthy servant of the Orkney public
Committee Membership
Details of committee membership are available from the 'Related Links' section of this page.
Outside Interests
Passionate supporter of West Bromwich Albion FC but love watching most sports and have played snooker for over 40 years with a career best break of 21. I enjoy birdwatching, stamp collecting, gardening on the allotment, cycling (though not too far) and representing the Orkney Club in the local Quiz League
Find Me
At home, at the allotment or, the odd evening, in The Orkney Club enjoying a light refreshment and a game of snooker.
Privacy Notice
Councillors represent residents as part of their work in the community. A Privacy Notice is available from the 'Related Downloads' section of this page. This provides information about the type of personal information Councillors might collect in carrying out their work, how it is collected, how it is used and how it is stored.