Harvey Johnston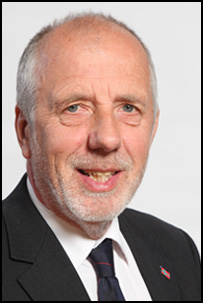 Ward: West Mainland.
Home address: Brettovale, Knarston, Dounby, KW17 2HZ.
Email: Harvey Johnston (Council BlackBerry).
Phone: 01856771443 or Council Blackberry 07718100245.
How best to contact me
Give me a ring on 01856771443 or come by the house at Brettovale - or via my Council contacts above.
Profile
Harvey Johnston is Convener (Civic Head) of Orkney Islands Council. He was born and brought up on a small farm in Harray, Orkney and after studying Agriculture in Aberdeen, spent some time in the construction industry and in the Civil Service before embarking on a career in education at Orkney College, firstly lecturing in Agriculture and subsequently retiring as Depute Principal over 30 years later.
He stood for election to the Islands Council in 2012, becoming a member for the West Mainland and was made Convener following re-election in 2017.
He is a staunch advocate of all things Orcadian with a particular interest in the history, language and culture of the islands. He is a regular performer at local events, often with his own style of dialect poetry. He has been married to Helen for 45 years and they have 5 children and 12 grandchildren. They also continue to run their small livestock farm with some family assistance.
Committee Membership
Details of committee membership are available from the 'Related Links' section of this page.
Outside interests
Giving talks on Orkney dialect, culture or history. Speaking at Harvest Homes, Burns Suppers etc. Performing at concerts and festivals. Writing poetry.
Find me
On the farm, in the peat hill  or at the shows.
Privacy Notice
Councillors represent residents as part of their work in the community. A Privacy Notice is available from the 'Related Downloads' section of this page. This provides information about the type of personal information Councillors might collect in carrying out their work, how it is collected, how it is used and how it is stored.