Duncan Tullock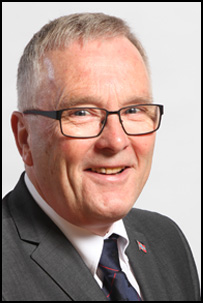 Ward: West Mainland.
Address: Lower Grindally, Birsay.
Telephone: 01856721215.
Mobile: 07867150698.
Email: Duncan Tullock.
How Best To Contact Me
As above.
Personal Profile
I was born and brought up in Kirkwall, educated at Kirkwall Grammar School and Stromness Academy. On leaving school I worked for the Bank of Scotland, I moved to the family firm in 1975 and then to Royal Mail in 1989.
I married Ony in 1975, we have two children, Kevin and Kylie, and 5 granddaughters: Eilidh, Grace, Jennifer, Katie and Rhona.
Committee Membership
Details of committee membership are available from the 'Related Links' section of this page.
Outside Interests
Apart from the grandchildren I enjoy researching the family tree. I am also fond of reading historically related books plus defence related magazines.
Find Me
At home, wandering around Birsay or at OIC.
Privacy Notice
Councillors represent residents as part of their work in the community. A Privacy Notice is available from the 'Related Downloads' section of this page. This provides information about the type of personal information Councillors might collect in carrying out their work, how it is collected, how it is used and how it is stored.