Rob Crichton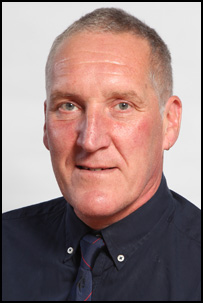 Ward: Stromness and South Isles.
Address: Button, Stenness.
Telephone: 01856851169 or 07703795809.
Email: Rob Crichton
How Best To Contact Me
At home or by email (see above).
Personal profile
I was first elected to the Council in 2007 when I represented the West Mainland – I had previously stood in 1990 against the then Convenor Hugh Halcro-Johnstone, being beaten by three votes (after two recounts). In 2012 I was persuaded to stand for Stromness and the South Isles and so 'jumped ship'. Having decided to stand for re-election in the Stromness and South Isles Ward I wasn't sure whether to be relieved, or disappointed, when the seat was uncontested.
Educated in Stromness, at the Primary and the Academy I grew up in and around the town. After schooling I became an apprentice Instrument Technician with Occidental Petroleum and worked for fourteen years on Flotta (only four as an apprentice!!!). I 'retired' from the oil industry, and daily boat trips, in 1994, returning to work on the 'mainland' where I've since had the pleasure of working in managerial positions at Orkney Meat Ltd., James Wilson (Orkney) Ltd. and Orkney Auction Mart. After my successful election to the Council in 2007 I went 'part-time' at Orkney Auction Mart before giving up 'regular' employment in 2010 to concentrate on being a Councillor.
Married to Pam we have lived at Button, Stenness since 1988 and have two sons, Murray and Joe.
Committee Membership
Details of committee membership are available from the 'Related Links' section of this page.
Outside Interests
Having been a Councillor for ten years my outside interests have unfortunately waned due to lack of time! A dodgy hip has unfortunately restricted my sporting activities although I can still plough up and down the pool. On a good day, weather and hip permitting, I enjoy getting out for a walk. I am still very interested in people and particularly 'what makes Orkney tick' and enjoy a dram and a yarn.
Find Me
At home, if no Council business, pottering in the garden or getting under Mrs Crichton's feet.
Privacy Notice
Councillors represent residents as part of their work in the community. A Privacy Notice is available from the 'Related Downloads' section of this page. This provides information about the type of personal information Councillors might collect in carrying out their work, how it is collected, how it is used and how it is stored.