Graham Sinclair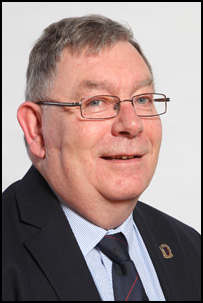 Ward: North Isles.
Address: Kirkjuvagr, Orphir, KW17 2RB.
Telephone: 07872677885 (blackberry), 01856811798 (home).
Email: Graham Sinclair
How Best To Contact Me
By email or by calling my blackberry (details above).
Personal Profile
I'm a Stronsay limpet, born and bred, although I now live in Orphir. Educated at Stronsay Junior High and gained O-Levels and Highers over the years at evening classes. Studied with the Open University and gained BA (Hons) Humanities with Classical Studies and Philosophy. I actually enjoy the pressure and discipline of studying new subjects but I could do with more spare time! I have two daughters, Valerie and Yvonne, who both work in Orkney - and four grandbairns. Being a member of around a dozen committees and sub-committees of the Council along with various working groups, single topic meetings and attending to ward issues, I find I am in the Council Offices nearly every day. Although the role of a Councillor is not considered a full-time occupation I have always seen it as a full-time commitment. Undoubtedly the part of my duties that I enjoy the most and find most rewarding is visiting the isles and helping to forward the interests of the islanders and their communities.
Committee Membership
Details of committee membership are available from the 'Related Links' section of this page.
Outside Interests
Once a keen sportsman, (before I become old and round) I still enjoy most sports, especially football, boxing and Formula One, as a spectator. One of my more recent outside interests is grandchildren - I have four now.
Find Me
In, or around the Council Offices almost every day.  Otherwise, with eight community councils across the North Isles, probably on a ferry!
Privacy Notice
Councillors represent residents as part of their work in the community. A Privacy Notice is available from the 'Related Downloads' section of this page. This provides information about the type of personal information Councillors might collect in carrying out their work, how it is collected, how it is used and how it is stored.