Andrew Drever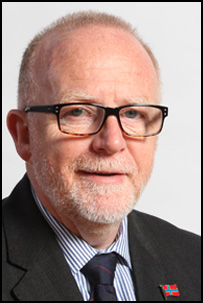 Ward: East Mainland, South Ronaldsay and Burray.
Address: Orkavoe, Holm, KW17 2RY.
Telephone: 01856781307.
Mobile: 07703795815.
Email: Andrew Drever
How Best To Contact Me
On any of the above contacts or through my Facebook page – Andrew Drever, Councillor – East Mainland, South Ronaldsay and Burray where you can private message me.
Personal Profile
Born in Kirkwall in 1961, I attended Papdale Primary and Kirkwall Grammar School. I moved to Holm when I married Irene in 1984 and have two grown-up daughters, Ingrid and Heather. For 20 years, I ran my own Ceramic Tile retail business but found through the pressures of ever increasing Council and constituency duties I had reduced time for attending to business requirements. I sold my business in 2006 in order that I could concentrate on my Councillor role and am pleased to have been re-elected for my fourth term in 2017.
Committee Membership
Details of committee membership are available from the 'Related Links' section of this page.
Outside Interests
I am a member and Chairperson of the Italian Chapel Preservation Committee, the Orkney Drugs Dog and the Friends of St Nicolas. In addition, I am a member of the Friends of the Childrens' House.
Find Me
Out and about!
Privacy Notice
Councillors represent residents as part of their work in the community. A Privacy Notice is available from the 'Related Downloads' section of this page. This provides information about the type of personal information Councillors might collect in carrying out their work, how it is collected, how it is used and how it is stored.