Lord-Lieutenant of Orkney - Bill Spence
Bill Spence was appointed HM Lord-Lieutenant of Orkney in February 2014 and so became the twentieth holder of this ancient office which was established in Orkney by King George I in 1715. He is the eighth Lord-Lieutenant to serve HM Queen Elizabeth in Orkney.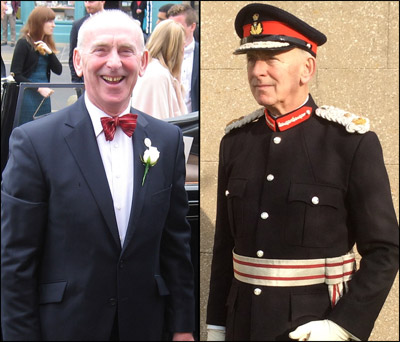 Born in January 1945 within earshot of the bells of St Magnus Cathedral he spent his childhood in Orkney before attending Leith Nautical College in Edinburgh to prepare for a career in the Merchant Navy, qualifying as Master Mariner in 1971.
After graduating B.Sc. from the University of Wales in Cardiff he became a Shipbroker in 1975 and joined the old established Kirkwall firm of John Jolly, Shipbrokers and Stevedores.
He was appointed Honorary Consul for Norway in 1976 and served more than 38 years in that role before retiring in January 2015.
Appointed Deputy Lieutenant in 1978 and Vice Lord-Lieutenant in 2011 he has supported four of his predecessors in the work of the Orkney Lieutenancy.
A non-playing Uppie he supports many local charities and good-causes, but none more so than The Society of the Friends of St Magnus Cathedral, of which he is Chairman.
He served 30 years as Chairman of the Riding the Marches Committee and was for a time Honorary Secretary, and later Chairman, of the Kirkwall Lifeboat Station.
He is an Honorary Sheriff in Kirkwall Sheriff Court and a former Chairman, now Patron, of The Pier Arts Centre Trust in Stromness.
He served as Chairman of the Association of Honorary Norwegian Consuls in the UK and Ireland between 1993 and 1995 in is a vintage car enthusiast and a member of Orkney Vintage Club.