Covid-19 - Education Services Updates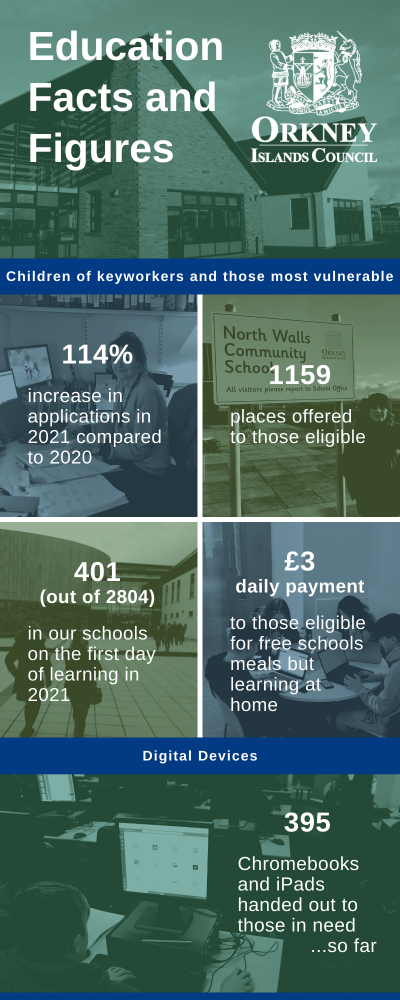 Here you will find all of the latest updates from our Education Services teams.  Click on the links below to find out more:-
First Minister confirms phased reopening of schools from 22 February
Nurseries and schools in Orkney will join the rest of Scotland in a planned phased reopening from Monday 22 February.
16 February 2021
School roll forecasts lead to plea from OIC Convener
The Convener of Orkney Islands Council has issued a plea for families to consider making the outer isles their home when planning a move.
15 February 2021
When Orkney, along with the rest of the UK, was swept into an emergency lockdown last year, the teaching profession was forced into a situation of largely unfamiliar practices – classes of remote, invisible pupils and a reliance on digital learning. In 2021, although in familiar territory, this time they were armed with previous knowledge and experience and teachers have come up with some innovative practices to continue learning with children and young people.
25 January 2021
Teachers and support staff in Orkney have joined pupils in a lockdown learning exercise  - using innovative ways to engage in live lessons online.
20 January 2021
Community Learning and Development
How are our small, but dedicated, CLD Team continuing to manage and develop since entering Level 3?
14 January 2021
OIC Education Service – "Behind the Headlines"
With change comes uncertainty and never more so is this being felt than at present as we all try our best to adjust to a new way of life.  For thousands of years, however, the people of Orkney have shown resilience and determination during times of adversity and have pulled together positively to seek innovative ways to work through challenging times, and this period is no exception.
14 January 2021