Changes to the collection services in response to COVID-19
Over the last few months, the waste team have had to introduce changes to the service in order to protect our staff and the residents and businesses of Orkney. To ensure the safety of our crews and protect the public we are following national physical distancing requirements and have reduced the number of people allowed in the cab of bin lorries. This, in addition to any staff shortages caused by the COVID-19 pandemic, has meant that we have had to focus our efforts on the most critical services, collecting waste which could become a public health hazard if left uncollected.
We are continually reviewing service provision as the situation evolves and are recovering services as appropriate, whilst still offering the same protection to our staff and the public and complying with updated national guidance. As service changes are implemented we will keep everyone updated through media outlets, Facebook, Twitter and on these pages so please keep checking for recent updates, as well as the FAQs below.
Recycling
Recycling materials will be collected every fortnight in Orkney Mainland, Burray, South Ronaldsay, Shapinsay and Westray. But only two materials can be collected each time – glass and plastic bottles on one cycle and paper/metals on the other cycle. Refer to the collection calendars in the 'Related Downloads' section and to the details below.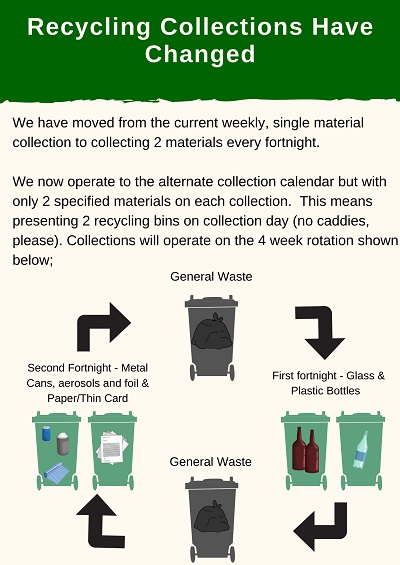 Presentation of your bin(s)
In these more challenging hygiene times please also make sure your bin handles are cleaned with warm soapy water, or alcohol-based wipes or Anti-Bac spray – our operatives are wearing PPE (Personal Protective Equipment) but they are pulling out thousands of bins every week and don't have the opportunity to do a 20 second handwash between each bin removal. Please keep your bins clean. Every bit helps.
Alternate Weekly Collections have resumed – with two types of recycling collected every fortnight.
The service is still constrained by physical distancing requirements which means that only one operative is allowed in the cab of a vehicle, together with the driver.  This means that more vehicles are required to collect recycling materials.  As only single compartment refuse vehicles were available from the existing fleet this meant that we were only able to collect one material at a time.  However, the service is now able to make use of a twin pack vehicle which will allow us to collect two materials at the same time, whilst still maintaining the two in a cab requirement and continuing to comply with physical distancing requirements. 
We are therefore able to revert to the fortnightly collection service, with recycling collected on the usual recycling day.  However, only two materials can be collected at any one time, as the new vehicle only has two compartments.  Unfortunately, four compartment vehicles such as are in use in Orkney are not common elsewhere in the country and no second-hand ones could be found for hire or purchase.  To buy a new one would require a lead in time of at least 12 months.
The weekly collection covering all areas of the Mainland is roughly three times more expensive than the standard collection and so is not sustainable given pressures on the Council budget overall and the waste budget in particular.  The revised service will be of a roughly similar cost to the standard collection service.
By returning to an alternate weekly collection service we will be able to free up resource and investigate options for recovering other recycling services whilst still complying with COVID-19 restrictions.
Key points:
Please put  your recycling bins out on your usual recycling day (calendars on the website as a reminder)
Plastic bottles and glass will be collected on one cycle, metal cans and paper on the next cycle.  Regular reminders will be issued.
One material per bin.
Bins only – no caddies 
If week of 9 November is your normal grey bin week – NO RECYCLING.  Put your recycling out the following week.
If the week of 9 November is your recycling week, put out one bin with glass and one with plastic bottles.
---
Future Changes
Rest assured that work carries on behind the scenes constantly reviewing other services, staffing levels and how we might be able to slowly re-introduce other services when we can in line with national guidance. Should infection numbers rise during this progress out of lockdown, we may face further lockdown measures and the resulting risk that services may be taken off line again. We sincerely hope that will not be the case so please work with us when using our services, think of others and stay safe.
Thank you for your patience and assistance at this difficult time – it is very much appreciated.
If you see our crews in the street, please keep a safe distance from them of at least two metres. You should also wash your hands before and after putting your bin out for collection. This is to protect them and you. Please visit the Scottish Government's website for advice on physical distancing.