Corporate Strategic Plan 2008-2013
Introduction to the Corporate Strategic Plan by Stephen Hagan, Council Convener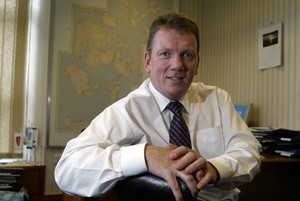 "I am delighted to introduce our new Council Plan. This key document outlines what the Council is doing about our biggest local challenges for the next five years."
Orkney's geography provides unique challenges for the delivery of services. Our island setting fosters a strong sense of community and volunteering spirit, but our population is growing, aging, and becoming more centralised. Average income is low, whilst house prices have escalated. The Council's responsibilities as a harbour authority and lifeline transport provider also raise big questions for the future.
To address these challenges, the Council Plan 2008-13 tells us what the Council is doing about the local priorities chosen by the new Council elected in May 2007. It makes sure that every section of the Council is working together. It demonstrates we are working towards common goals – those big issues that are most in need of attention. It is a strategy for what we want to achieve, preparing us for new ways of working with the Scottish Government.
Orkney has a tradition of close partnership working and this has led to a strong commitment to community planning and a shared vision for Orkney. Orkney Islands Council has a long history of engagement with Community Councils and consultative groups. The Council Plan demonstrates how we will contribute to the new community plan Orkney 2020: Our Vision which sets out wider local priorities for Orkney suggested by the public and agreed by other organisations. It also reflects the views of the 572 Orkney residents who took part in our household survey at the end of 2007, and I would like to take this opportunity to thank you all for participating.
Our thanks go also to everyone else who contributed to this plan, and to everyone who will help turn it into real benefits for the area in years to come by working together for a better Orkney.
You can download a summary of the Council Plan in PDF format by clicking on the link within the Related Downloads to the left of this webpage.
The full plan is available from the 'Related Downloads' section of this page.