Kirbuster Museum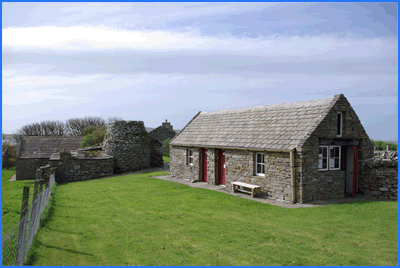 Kirbuster Museum was opened to the public in 1986. It is the last un-restored example of a traditional 'firehoose' in Northern Europe. The house has a central hearth and a stone neuk bed, a unique survival. Kirbuster was occupied up until the 1960s and was once the home of the Spence and Hay families.
The site also has an Edwardian parlour and Victorian Gardens. The 'implement shed' contains a collection of farming memorabilia. Visitors can enjoy a game of putting on the green and also explore the new Trowie Trail in the back garden.
Address
Kirbuster Museum, Birsay, Orkney, KW17 2LR.
Telephone
01856771268.
2015 Opening Times
Summer Opening - 1 March to 31 October
Monday - Saturday from 10:30 - 13:00 and 14:00 -17:00
Museum is closed for lunch 13:00 - 14:00
Sunday from 12:00 - 17:00
Winter Opening - 1 November to the beginning of March

Museum is closed.
Price
Facility is free of charge.