Hoy Outdoor Centre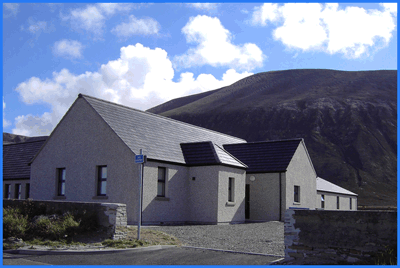 The Hoy Outdoor Centre is a focal meeting point for the folk of Hoy. Based in the spectacular scenery of Hoy, the Centre is available to singles, families or for group use, either on a daily or residential basis. In 2009, the Hoy Outdoor Centre was awarded 'Groups Welcome' status by VisitScotland.
Address
Hoy Outdoor Centre, Hoy, Orkney, KW16 3NJ.
Opening Times
The Hoy Outdoor Centre is open all year round, except for the Christmas and New Year holiday period.
Check-in time: by arrangement.
Departure time: 10:00.
Facilities
The Centre offers excellent facilities and is well-equipped for all size parties, with ample free parking for several vehicles. For residential guests, the Centre has 8 bedrooms, all ensuite. Each room has 4 beds (2 singles and a bunk bed), desks, seating and 4 lockers. All bed linen is provided, however, guests must bring their own towels. The Centre is fully accessible for disabled guests.
The spacious hall has seating and tables for up to 60 people. If required, there is a small stage available, plus presentation materials.
The Centre has a well-equipped kitchen for those groups wishing to provide their own food.
The smaller common room has comfortable seating and a TV is available.
Free wi-fi is also available.
Prices
Charges for all Council services can be obtained from the 'Council Charges' page which can be accessed from the 'Related Links' section of this page.
Availability and Bookings
We would encourage members of the public to use the online booking system as telephone and email bookings will incur an additional admin charge.
To check availability or to make a booking online please follow the link provided in the 'Related Sites ' section of this page.
If you require any further information or need assistance making a booking, please do not hesitate to contact Stromness Customer Services using the details below.
Telephone: 01856873535 extension 2901 or 01856850907.
Email: Stromness Customer Services.
Stromness Customer Services opening hours are:
| | |
| --- | --- |
| Monday. | 10:00 – 19:00. |
| Tuesday. | 10:00 – 17:00. |
| Wednesday. | 10:00 – 17:00. |
| Thursday. | 10:00 – 17:00. |
| Friday. | 10:00 – 17:00. |
| Saturday. | 11:00 – 17:00. |
Terms and Conditions
Full terms and conditions are available in PDF format from the 'Related Downloads' section of this page.