Child Protection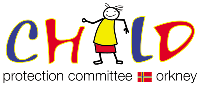 The Child Protection Committee (CPC) is the primary strategic planning forum for inter-agency child protection work in Orkney. We aim to raise awareness, amongst staff in all agencies dealing with children to the possibility of abuse and neglect. CPC promotes the highest standards of inter-agency practice to protect vulnerable children and has a key role in evaluating how well local services work together to protect vulnerable children. CPC is responsible for raising awareness within the local community of the need to safeguard vulnerable children and knowing how to report concerns.
We hope you find the information contained here useful whether you are a professional, a parent, family member or young person involved in the child protection process, a member of the community interested in child protection, or wish to report a concern.
Contact
Orkney Health and Care Children and Families Services:
Telephone: 01856873535.
Outside normal office hours in cases of emergency:
Telephone: 01856888000.
Further Information
A number of information documents and forms regarding Child Protection are available from the 'Related Downloads' and 'Related Sites' section of this page.