Birsay Outdoor Centre and Campsite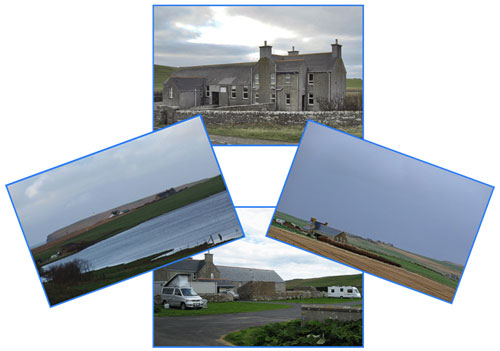 Set in a rural location just outside Birsay in the northwest corner of Orkney Mainland.
This recently refurbished hostel offers visitors comfortable 3 star accommodation which comprises 5 bedrooms sleeping 27 persons in total.  Exclusive room or hostel hire is available. The hostel welcomes singles, groups and families.
Outside in the extensive grounds, 20 camping and caravan pitches are available, some with hard standing and electric power hook ups. Tents, caravans and motorhomes can all be accommodated on this firm, grassy, level site.
Address
Birsay Hostel, Orkney, KW17 2LY
Opening Times
The Outdoor Centre is open April to September.  Out of season booking may be available by arrangement.
Check in Time: 6pm-7pm
Departure Time: 10am
Facilities
Birsay Outdoor Centre
The Centre has 5 bedrooms and 27 beds in total.
On the first floor are:
"Brough Head" for 4 (2 bunkbeds)
"Oxtro" for 2  (1 bunkbed) with en-suite washbasin and shower.  Views over Brough of Birsay.
On the ground floor are:
"Barony" for 6 (3 bunkbeds)
"Marwick" for 11 (5 bunkbeds and 1 bed)
"Lower Palace" for 4 (2 bunkbeds) with en-suite washbasin and shower.
All bed linen is provided. There is access to the Hostel all day once check in is complete. Each guest has his or her own key to access the hostel.
The Centre has a well equipped kitchen, dining area, small lounge and drying room.
There is disabled access.
Camping and Caravan Site
In total there are 20 pitches and 10 electric hook-up points. There is a toilet and shower block on site, where guests will also find washing facilities. For our disabled guests the disabled toilet and shower, within the Centre, is available for use.
Dogs are permitted on the site.
Prices as at 1 April 2014
 Birsay Outdoor Centre

 Juniors (under 18)

 £12.50 per night

 Seniors (18 and over)

 £16.60 per night

 Under 3's

 £4.60 per night

 Family Room (4 beds, based on 2 adults & 2 children

 sharing)

 £40.45 per night

 Exclusive Room Occupancy Adults (4 beds)

 2 people - £45.90

 3 people - £55.25

 4 people - £63.40

 Exclusive Centre Use - 27 Beds

 - per night

 £299.40 (35% off)

 - per week

 £1,648.00 (50% off)
Campsite (prices inclusive of 4 persons)

 Caravan / Motorhome / Large Tents with electric

 £14.20

 Caravan / Motorhome / Large Tents

 £12.15

 Medium Tents

 £10.25

 Small Tents

 £6.45

 Awnings

 £4.10

Additional charge (per person) for over 4 persons

 Adults

 £5.20

 Children (under 18)

 £2.65
Leisure Pass - Unlimited access to Stromness Pool, Health Suite, Fitness Centre and Squash/Racket Ball

 *Family/Group

 Price per night

 1 night

 £5.00

 2 nights

 £4.50

 3 nights

 £4.00

 4 nights

 £3.50

 5 nights

 £3.00

 6 nights

 £2.50

 7 nights

 £2.00

 Individual

 1 night

 £3.00

 2-7 nights

 £2.50

 Couples

 1 night

 £4.50

 2-7 nights

 £3.75
* A Family is classed as 2 adults and 2 children. A Group is 4 or more people aged 16+ years. Each  additional adult or child will cost £1.00.
Further Information
For further information on hostel and campsite bookings, please call Education, Leisure and Housing on 01856 873535 ext 2430 or email.