St Colm's Cards
For Sale/Orders Taken
We have a range of cards on display at St Colm's Day Centre and also take orders for individual cards, Wedding Stationery and similar.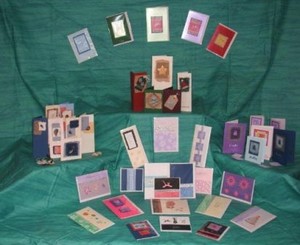 Where Are We and What Do We Do?
St Colm's Cards is based at the St Colm's Day Centre. We produce a range of greeting cards for a variety of occasions including birthdays, weddings, new baby, sympathy and Christmas.
We also produce handmade recycled paper which we use to decorate some of our cards and hope to sell in packs in the near future.
The premises are located in Kirkwall, just off the Pickaquoy Road and Muddiesdale Road, between the Glaitness Primary School and the Pickaquoy Leisure Centre.
How To Contact Us
We are open from Monday to Friday, 9.00am to 5.00pm.
St Colm's Day Centre
Pickaquoy Road
Kirkwall
Orkney
KW15 1RP
Tel: 01856 873217
Our printable flyer can be downloaded from the Related Downloads section on the left of the page.