Plantie Crue Green Boxes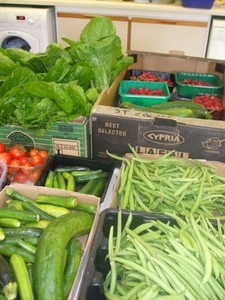 What is Plantie Crue?
Plantie Crue is based at St Colm's Day Centre and use the poly tunnels at Orkney College to grow vegetables. These we pack in boxes for collection every fortnight. The price of the box varies depending on the produce that is harvested. Examples of produce we grow are cabbages, tomatoes, strawberries, marrows and root vegetables.
How Do I Buy Your Produce?
It's easy to be added to our list or for further information please contact:
St Colm's Day Centre, Pickaquoy Road, Kirkwall, Orkney, KW15 1RP
Tel: 01856 873217
A printable flyer about Plantie Crue can be downloaded from the Related Downloads section on the left of the page.