Harvey Johnston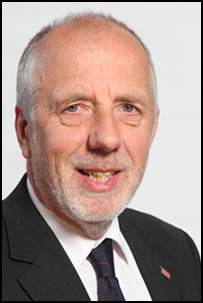 Ward: West Mainland.
Home address: Brettovale, Knarston, Dounby, KW17 2HZ.
Email: Harvey Johnston (Council BlackBerry).
Phone: 01856771443 or Council Blackberry 07718100245.
How best to contact me
Give me a ring on 01856771443 or come by the house at Brettovale - or via my Council contacts above.
Profile
I was born and bought up on a small farm in Harray, attending Harray Public School and Stromness Academy before studying Agriculture in Aberdeen. I worked on a farm, in the construction industry and as a civil servant with the Department of Agriculture before embarking on a career of over 30 years at Orkney College. I retired as Depute Principal 3 years ago and my wife Helen and I run our farm up above Dounby. We have 5 children and 8 grandchildren.
Committee Membership
Details of committee membership are available from the 'Related Links' section of this page.
Outside interests
Giving talks on Orkney dialect, culture or history. Speaking at Harvest Homes, Burns Suppers etc. Performing at concerts and festivals. Writing poetry.
Find me
On the farm, in the peat hill  or at the shows.