James Stockan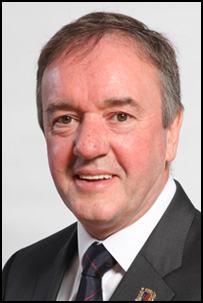 Ward: Stromness and South Isles.
Address: 102 Victoria Street, Stromness, KW16 3BU.
Telephone: 01856850888, Council Blackberry 07703795810.
Email: James Stockan
Personal Profile
Elected to Council in 2003. Chair of Economic Development from 2005 to 2007, and served as Vice Convener from 2007 to May 2012. Currently Chair of the Development and Infrastructure Committee. I have a background in family business - I was Executive Director of Todds in Orkney. Born and bred and still living in Stromness, I am married with two children. I feel my role as a Councillor is to be the interface between the community and the Council, to help deliver community benefit and excellent services for my constituents.
Committee Membership
Details of committee membership are available from the 'Related Links' section of this page.
Outside Interests
Good conversation. I am chairperson of the Friends of Hoy Kirk, and am involved with the Stromness Baptists Church.
Find Me
Roaming the corridors of OIC challenging and encouraging officers.