Vice Lord-Lieutenant of Orkney - Keith Johnson
Keith Johnson's appointment as Vice Lord-Lieutenant of Orkney was approved by Her Majesty in December 2014 and was announced in the London Gazette on 20 February 2015. He was appointed as a Deputy Lieutenant on 10 December 2010.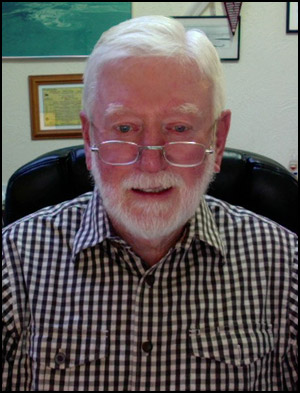 He was born at Cromwell Road, Kirkwall in 1944 and thus is a defined 'Doonie' and attended Kirkwall Grammar School leaving in 1962 to commence a career in the merchant navy. He obtained a Master Mariner qualification in 1971 and qualified as Extra Master Mariner in 1975. The early part of this career was in dry cargo ships with Ben Line Steamers of Edinburgh and then progressed to Shell for the remainder of his career which took him to shore positions with Shell International Marine in the USA, Qatar, London, Shetland and Aberdeen. He has been supported throughout his working career and in retirement by his wife – Jean – of 48 years.
On retiring in 1993 he returned to Orkney and became councillor for Birsay in Orkney Island Council and served for 13 years, including eight years as Chairman of the Social Work and Housing Committee.
After retiring from Orkney Islands Council he served as chairman of Orkney Homes Trust and Orkney Islands Property Development Company (OIPD), a director of Voluntary Action Orkney and served on the Council of the Friends of Saint Magnus Cathedral. At present he is chairman of Birsay Heritage Trust, a founding and committee member of Orkney Historic Boat Society, a member of the Dounby Surgery Patient Participation Group and a board member of OIPD and Orkney Homes Trust.
His main interests and activities are observing and researching the Orkney Climate (and has been a voluntary climate observer for the Meteorological Office since 2000), and is a member of the Royal meteorology Society and Climate Observers Link. A large garden occupies most of his spare time especially in summer.